Eureka Mignon MCI Espresso Grinder
The Eureka Mignon is a high-quality espresso grinder with stepless adjustable disc grinder.
For the ambitious home barista
High-quality housing made of die-cast aluminium
Optional timer function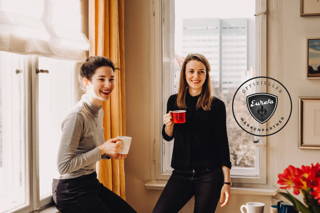 Perfect for beginners and experts!
Eureka Mignon MCI espresso grinder with steel disk grinder
The Eureka Mignon espresso grinder is firmly established in the coffee scene – with good reason! It combines compact design and high-quality components that are otherwise only available from much more expensive espresso grinders.
The Eureka grinder is a solid, very evenly working "direct grinder" with disc grinder and timer function. It is surprisingly quiet and easy to maintain, making it ideal for household use and in combination with entry-level and higher class espresso machines.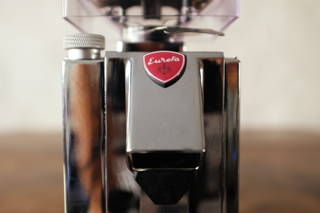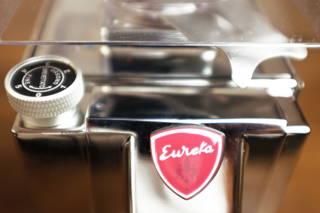 What makes Eureka special?
The design of the grinder is unique. The 50 mm disc grinder is mounted under a fixed grinding ring and can be continuously adjusted with a knob on the top of the housing. This allows you to adjust the grinding degree very finely and there are practically no limits when you are adjusting your espresso. In addition, this design makes it easy to clean the grinder without having to adjust the grinding degree.
We offer the current version of the Eureka Mignon, where the timer is mounted on the side of the espresso grinder and not in the base as in older models. If you don't want to rely on your sense of proportion, the timer can be used to grind a constant amount of freshly ground coffee each time.
Well established design – for beginners and advanced
The Eureka espresso grinder has a high-quality aluminum housing and a 250g plastic bean container. Despite its space-saving size, the compact Eureka Mignon MCI has enough stability to be operated with one hand. The antistatic stainless steel trunk also ensures comfortable use.
In terms of grinding performance and robustness, this grinder can also compete with higher priced, larger grinders and is therefore recommended by us for ambitious espresso beginners and professionals for home use.
Due to the homogeneous grind, the espresso tastes much more differentiated and balanced than with a simpler grinder.
Our set recommendation
ECM Classica & Eureka Mignon MCI
Our alternative
Baratza Sette 270 - grinds even faster
Our upgrade recommendation
Macap M42D - High-End espresso grinder
Overview of technical details
Grinder Details
Suitable for espresso: yes
Suitable for filter coffee: limited
Grinding mechanism: Disc grinding mechanism
Grinding mechanism Material: steel
Grinder Ø: 50 mm
Grinding capacity: 2 g/sek
Speed: 1350 rpm
Number of grinding degree steps: infinitely variable
Features
Display: no
Grind on Time: yes
Grind on Weight: no
Programmable: yes
Insert for screen carrier: yes
Size of the bean container: 250 g
General
Housing material: diecast aluminum
Motor power: 260 W
Weight: 5620 g
Dimensions ( W | H | D ): 11 | 32 | 16,9 cm
Power supply: 230 V
Warranty: 24 months
Manufacturer name: Eureka Mignon MCI M/T espresso grinder
Our espresso recommendations