Fellow Stagg X Pour Over Dripper & Paper Filters
The special combination of a narrow cone, a flat brewing bed and several small holes promises an exceptional brewing experience!
Vacuum-insulated housing keeps the temperature constant during the brewing process
Narrow cone increases coffee to water contact & enhances extraction
Dosing aid and drip cup included
Kalita Wave filter 185 paper filter included (100 filters)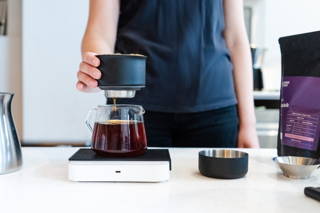 Dripper with dosing aid and drip cup
A brewing experience like no other
Does the world really need yet another filter dripper? There was room for improvement with all previously existing ones – at least, that's what the renowned company Fellow thought and developed the Stagg X Pour Over Dripper which promises a unique brewing experience. But what's behind it?
The housing of stainless steel is insulated. While most drippers have only one wall, this one has two. There is a simple, practical reason behind it: During the brewing process, the temperature is evenly high. The ground coffee doesn't cool as quickly as in other drippers. This has an effect on the taste: If the temperature sinks rapidly within a short period of time, the finished coffee can contain subtle, bitter notes that are not evident when you brew coffee with the Stagg X.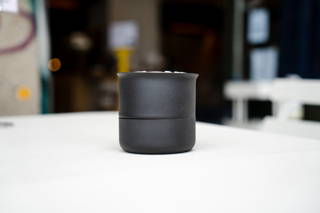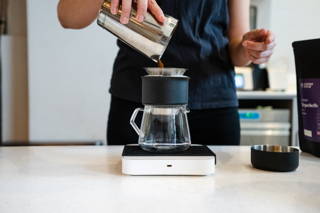 Narrow cone
The cone is narrower and has steeper walls than similar products. Since the coffee-to-water contact is increased, the extraction is enhanced. No drop of water bypasses the ground coffee as is the case with other products to prepare filter coffee. Instead, water flows through the coffee evenly. That means you don't have to worry about tasting watery coffee when using the Stagg X.
The flavour is full-bodied, rich, and slightly sweet – exactly the way it is supposed to be.
Clogging impossible
On the bottom side of the cone are holes and bumps. There is no aesthetic reason behind it: They prevent the filter from collapsing which would lead to clogging.
Coffee lovers know the problem: If the filter collapses during the brewing process, the water can only flow through a tiny surface area. Only if you lift the filter, the water can flow as it is supposed to. With the Stagg X you don't have to worry about this nuisance anymore.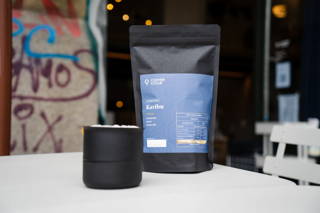 In this video, Andy takes an in-depth look at the Fellow Stagg [X] Dripper in an extensive test
Technical details at a glance
Name: Stagg X Pour Over Dripper
Manufacturer: Fellow
Material: Stainless steel
Colour: black, matte
Scope of delivery
1 dripper
1 dosing aid with dripping container
Manual
Our filter coffee recommendations
Tips for better filter coffee
What is important to note for a perfect cup of filter coffee? We did some research and share our discoveries with you.