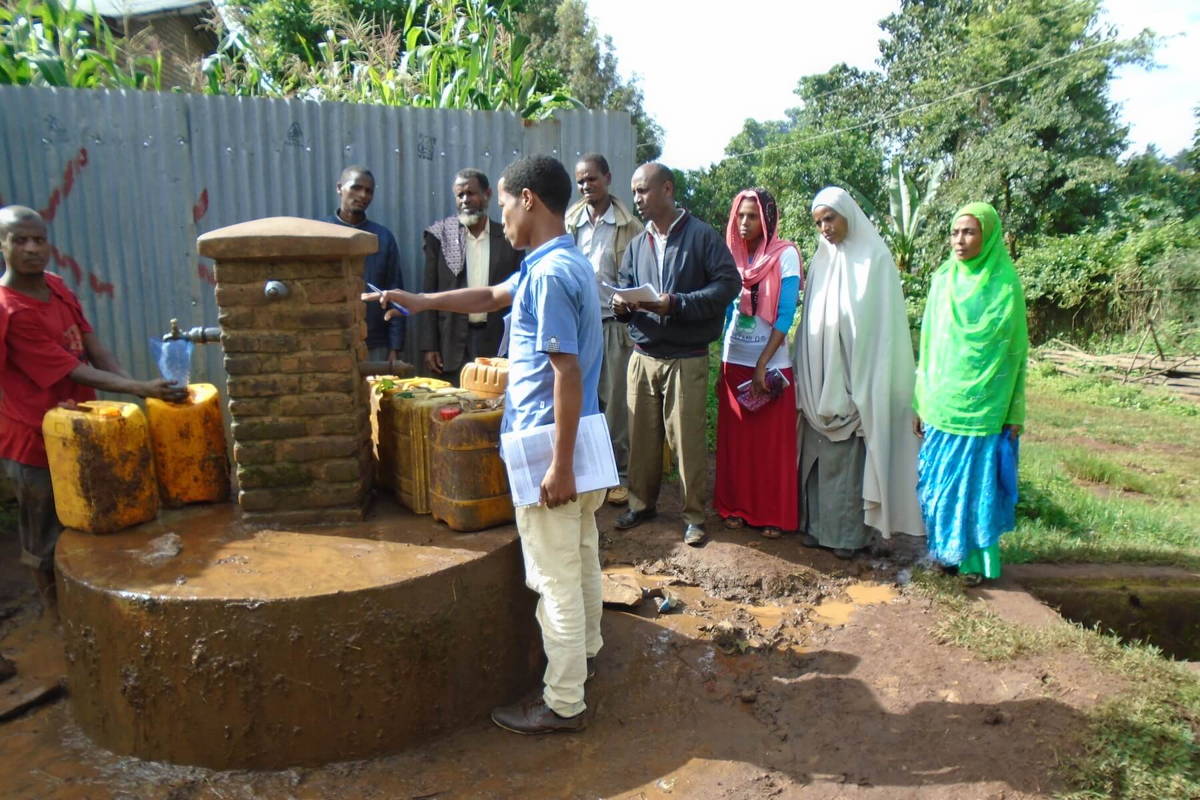 Walk of Shame — Hygiene trainings in Limu, Ethiopia
During the planning and implementation of our large WaSH project, we quickly realized that supplying local communities with clean drinking water alone is not enough to prevent infections and diseases. In addition to building sanitation facilities, we therefore decided to conduct hygiene trainings in close cooperation with Welthungerhilfe.
The three parts of our WaSH project – clean drinking water, construction of sanitation facilities and targeted hygiene training – are all equally important. Without functioning sanitation facilities, tapping drinking water sources is useless. Without clean drinking water, hygiene trainings are unnecessary, and without hygiene trainings, sanitation facilities are hardly effective. Thanks to your donations of €1 per kilo of coffee purchased, we have been able to realize all three parts as part of our WaSH project.
In short
Project volume: 27,329 € (+ 700,000 € for extension until 2024, distributed among three sub-projects)
Implementation period: since 2015
Region: Limu, Ethiopia
Villages: Doyo Bikila, Doyo Tolie, Ilkie, Sakala Genefo and Andode Alaga
Geo-Coordinates: 36.65oE to 36.76oE; 7.63oN to 7.71oN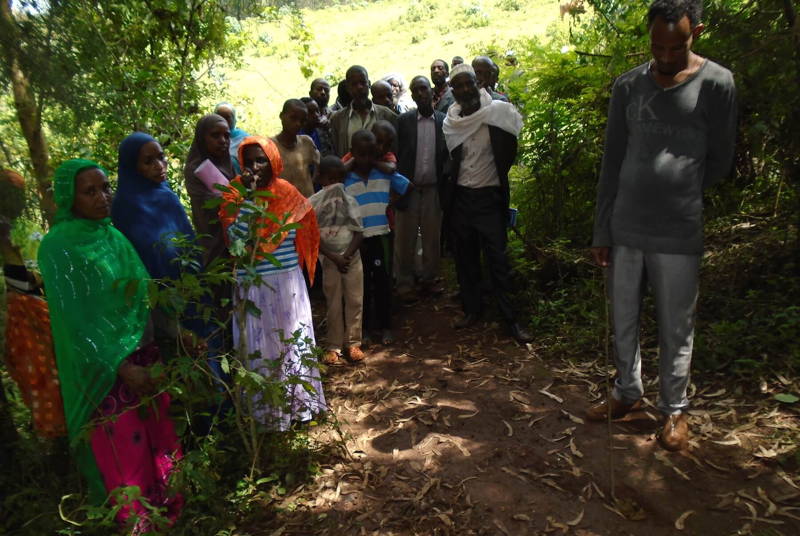 Why was this project so important?
To implement our WaSH project, we looked for an NGO as a partner in 2015. Coffee Circle founder Martin Elwert had approached various charitable organizations until he stepped into the office of Welthungerhilfe in Addis Ababa, Ethiopia, and met Manfred and Lanka, who were enthusiastic about his idea of securing drinking water sources in the Limu region and pledged their support. They also gave him valuable insights along the way.
Stephan Eicke: Martin, Welthungerhilfe is a large NGO. Previously, we had worked with smaller partners and even managed some projects on our own…
Martin Elwert: Yes, I can still manage to build a school, but a complex undertaking like our WaSH project, which involves tapping wells and laying pipes over 60 km, is too much. It made sense to find someone to represent us on the ground and give us a hand.
Had you originally planned hygiene training?
No. But we talked to Welthungerhilfe, who told us that we need to raise awareness about hygiene, otherwise we will see contamination of drinking water, even if the water itself is clean. How do we raise this awareness? In other regions, it became clear that it makes sense to educate children, who then carry their knowledge to their families. So we have conducted so-called water clubs at the schools. In addition, we led education activities in the communities, such as the Walk of Shame, which was organized by Welthungerhilfe. People were able to try things in these interventions that they wouldn't otherwise be able to try. It was important for everyone.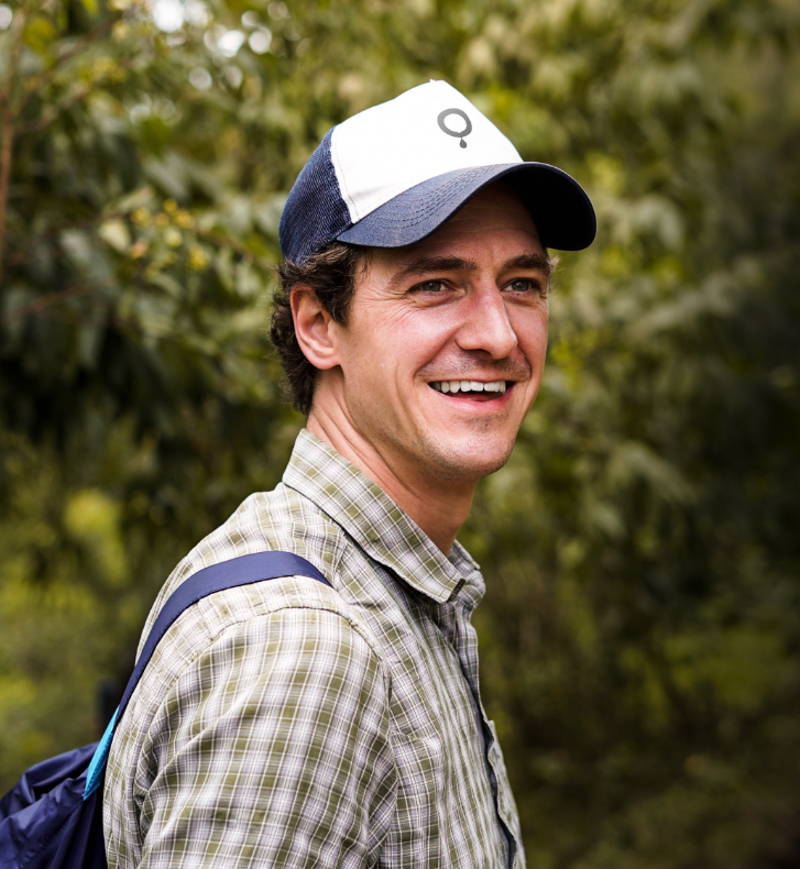 How was this project implemented?
The training improved the access to and usage of water- and sanitary facilities.
The first step in implementing the hygiene trainings was to establish a hygiene and sanitation committee. This was done back in 2015 when 25 people were selected as members from the coffee cooperatives from the village communities of Doyo Bikila and Doyo Toli to conduct hygiene trainings as a committee. The goal was to create greater awareness of such issues and to subsequently manage and monitor the implementation of better hygiene.
The method used to implement the hygiene measures was given the name CLTS for "Community Led Total Sanitation Approach." As the term explains, members of the village communities trained other members of the village communities; friends, acquaintances, family members, neighbors. In a practical way, these people were to be persuaded to change their thoughts and actions with regard to hygiene. The aforementioned "Walk of Shame" was an essential part of this: members of the village walked with the trainers through the streets of their village to be made aware of the filthy environment, the waste and feces that line the paths.
Each administrative district in the region established WaSH clubs to promote hygiene. Training improved access and use of water and sanitation facilities. As mentioned by Martin, a focus was placed on the schools to train the trainers who then could pass on their knowledge: Five school clubs were established in the Mana and Seka-Chekorsa districts in 2017 and a "Training of Trainers (ToT)" was given in two sessions. The training lasted three days in both districts. A total of 29 residents participated. At the end of the training, each WASH club prepared their action plan. These newly trained trainers can pass on their knowledge to many other residents to increase hygiene awareness.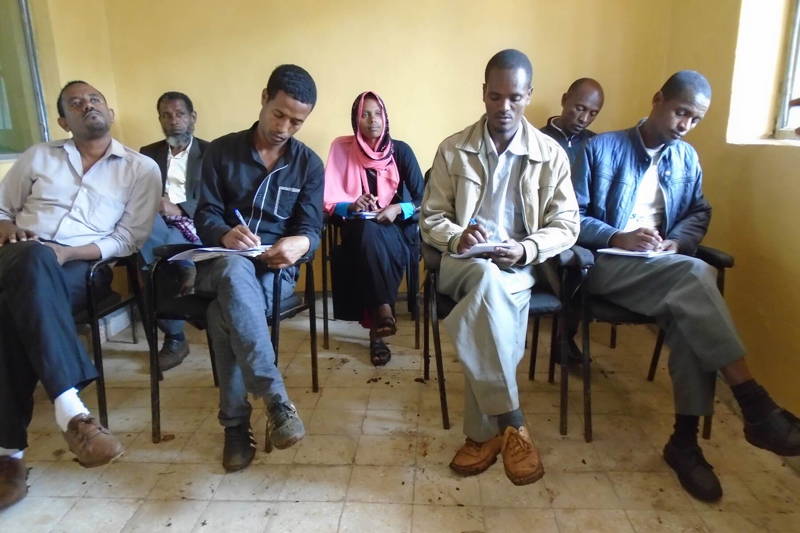 Our Coffees from Ethiopia
What has changed?
The first successes became already evident in 2017. By that year, numerous sanitary facilities had been built and rehabilitated. The Homecha source had been tapped. Through the hygiene trainings in all kebeles – the administrative districts – sanitation had improved in terms of hygiene practices and the installation and correct use of latrines for the different households.
After the "Training of Trainers" was completed in the kebele schools, the trainers there continued with other workshops. Regular sanitation campaigns and hygiene and sanitation awareness trainings are now held in most schools.
The hygiene trainings are still being conducted, though they were interrupted by the Covid-19 pandemic, as we have summarized for you here. Welthungerhilfe has been a tireless supporter, with teams responding quickly to educate people in the region and provide them with hygiene supplies in 2020. As a result, more than 45,000 people were reached in a very short time with educational posters and public appeals. In addition, hygiene supplies such as soap, disinfectants, masks and gloves were distributed in more than 200 villages and numerous health posts.
In collaboration with local communities, we also held cooking and nutrition classes for families to share tips on a balanced diet. As direct assistance, an additional 560 kg of food (powdered beans, barley, corn, fandisha, coffee, oil and sugar) were distributed to families in the communities.
In September 2021, we signed a contract with Welthungerhilfe in which we committed to continue the WaSH project with its three sub-projects until December 31, 2024 and to financially support it with a total of €700,000. The planning and evaluation phase started on September 1, 2021 and will last six months. We will of course keep you informed about the next steps.
A report by Stephan Eicke