Karibu is a coffee blend from three countries: Ethiopia, Colombia and Kenya. The blend gives this coffee its unique taste that reminds us of chocolate and cinnamon.
Full-bodied and powerful flavour
Recommended for all types of filter coffee preparation
100% Arabica beans from Ethiopia, Colombia and Kenya
Gently roasted in Berlin
| | |
| --- | --- |
| Taste | Chocolate, Cinnamon |
| Strength | |
| Acidity | |
| Sort | 100 % Arabica, Blend |
| Origin | Brazil, Ethiopia, Kenya |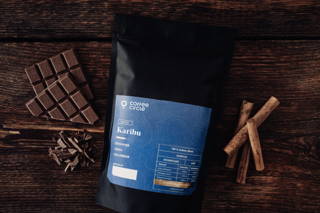 Karibu – The best of three countries
100 % natürlich
The taste of Karibu filter coffee reminds us of dark chocolate with a subtle hint of cinnamon. For this we have combined the best of three countries: the sweetness of Ethiopian coffees, with spicy notes from Brazil and fruity notes from Kenya in the finish. The result is a pleasantly strong filter coffee that will delight you.
Tips for preperation
Karibu is suitable for any type of filter coffee preparation. Our favorite way to brew it is with a filter coffee maker and French press.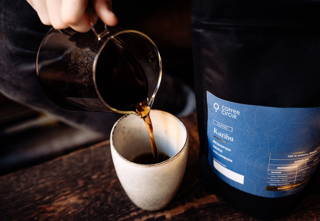 Fresh and mild roasting in Berlin
We roast Karibu coffee fresh every week with a medium-strength roast profile (so-called "city roast"). Our roasting masters take great care to find the exact moment when the complex aroma of the coffee is in harmony with the roasting aromas. The final temperature of the coffee is 212° Celsius.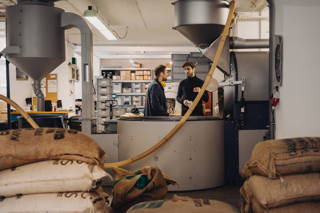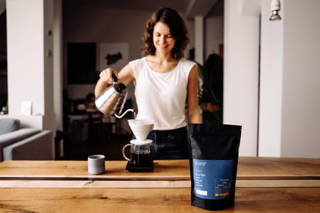 The Karibu coffee is also available on subscription!
Automatic delivery conveniently to your home
Adjust or pause at any time
Cancel at any time
Origin
The Karibu is a blend of Brazilian, Ethiopian and Kenyan coffees and combines the advantages of each coffee with each other. The Brazilian component comes from our partner cooperative APAS, who have created a high-quality APAS Blend especially for us. This coffee tastes nutty, chocolaty and is very soft. The Ethiopian component comes from the region around Agaro in Western Ethiopia, from the cooperative Geta Bore, with whom we have been working for many years. The Kenyan coffee comes from the Thiririka cooperative in Kiambu, where we have a project with the coffee farmers to improve their quality.
The name of the coffee reminds us of our stays in Kenya, where we are greeted with "Karibu" in the cooperatives. Because in Swahili it means "welcome".
Ethiopia
Origin: Geta Bore, Agaro, Limu, Ethiopia
Geo coordinates: 7°46'57.0 "N 36°24'31.9 "E
Altitude: 2,040 m
Coffee farmers: 231
Processing: Washed
Plant: Heirloom, local landraces (Arabica)
Brazil
Origin: APAS, Mantiqueira de Minas, Brazil
Geo-coordinates: 21°56'16.4 "S 45°28'07.3 "W
Altitude: about 1.000 m
Coffee farmers: 60
Processing: Natural
Plant: Yellow Catuaí, Yellow Bourbón, Mundo Novo (Arabica)
Kenya
Origin: Thiririka FCS, Kiambu, Kenya
Geo coordinates: -0.985218, 36.832097
Altitude: 1,800 m
Coffee farmers: 2,600
Processing: Washed
Plant: SL-28, SL-24, Ruiru 11 (Arabica)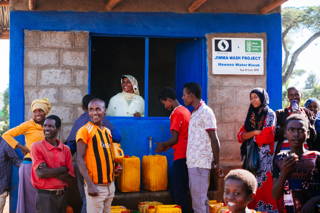 1 € per kg of coffee goes to our projects!
With your coffee purchase, 1 € per kg of coffee goes to our social projects in Ethiopia, D.R. Congo or Kenya. You decide in the shopping cart which project you would like to support:
Access to clean drinking water for 18,900 people in Ethiopia.
Higher wages for 10,000 coffee farmers in Ethiopia
A training center for 3,500 coffee farmers in D.R. Congo for higher coffee prices
Support for 2,600 coffee farmers in Kenya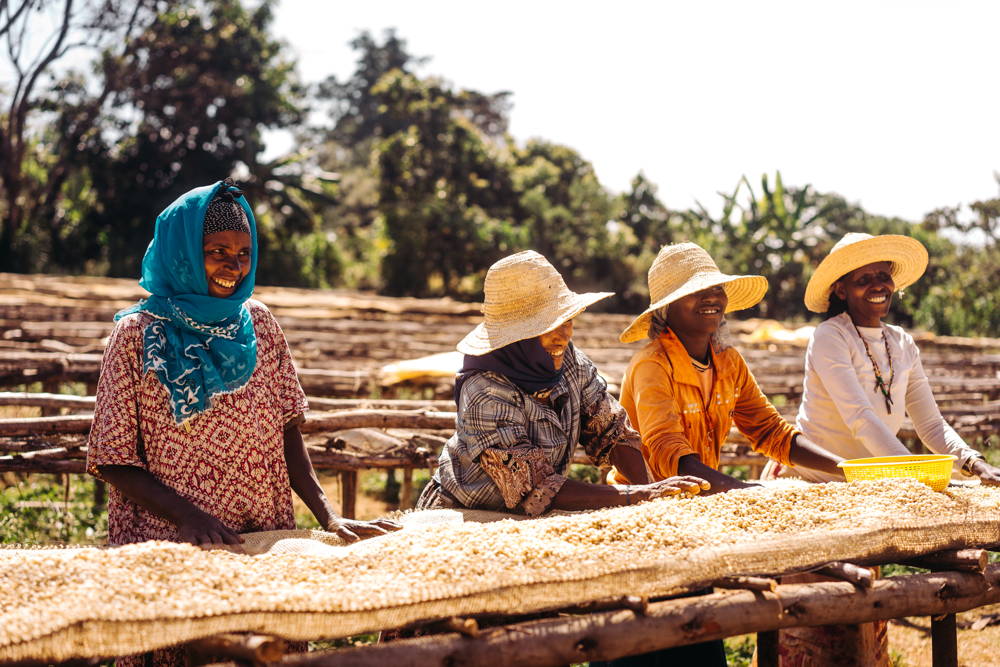 Kaffee wird in der Sonne getrocknet
Nachdem der Kaffee gewaschen wurde, wird er in Äthiopien schonend in der Sonne getrocknet. Die Frauen wenden ihn regelmäßig, damit die Bohnen nicht zu viel Sonne ausgesetzt sind.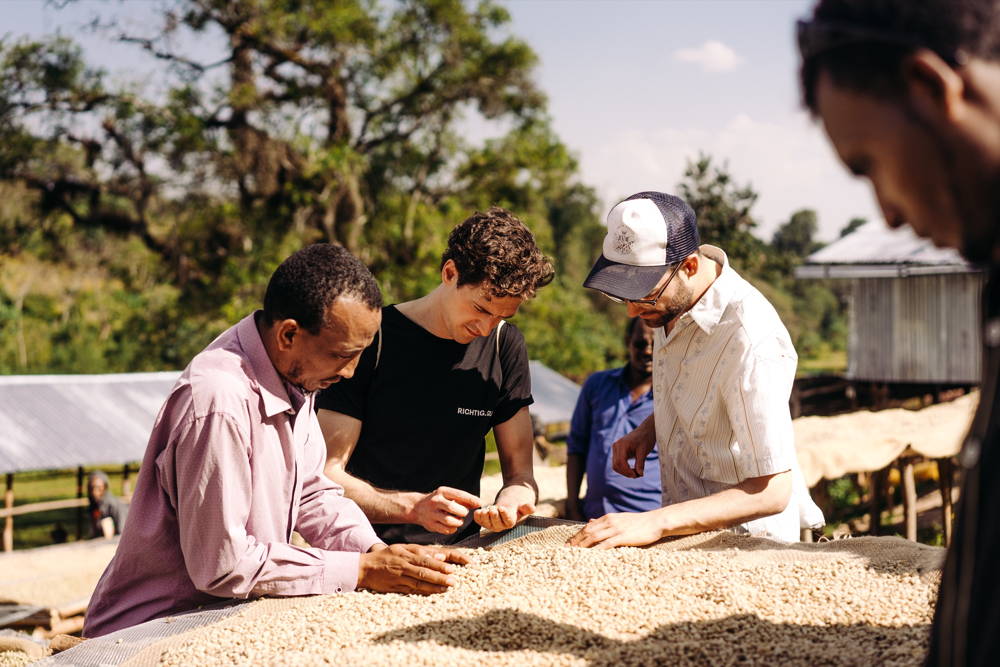 Wir kennen unsere Partner seit vielen Jahren
Mit unseren Partnern in den Kaffeeländern pflegen wir einen Beziehung auf Augenhöhe.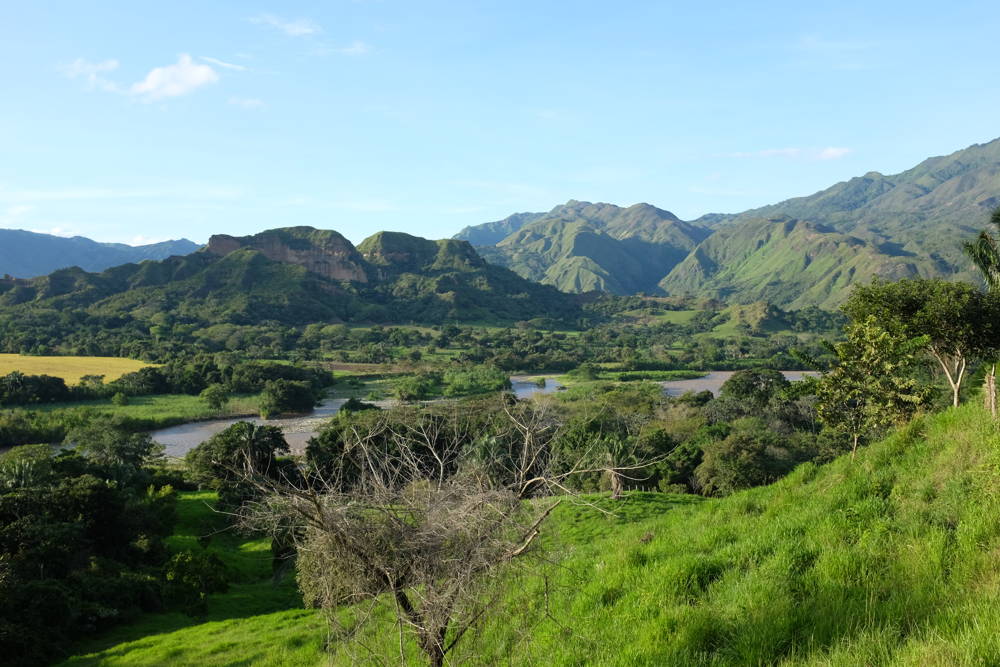 Unsere Reise nach Kolumbien
Tolima, Kolumbien – Dies ist die Region, aus der dein Kaffee kommt!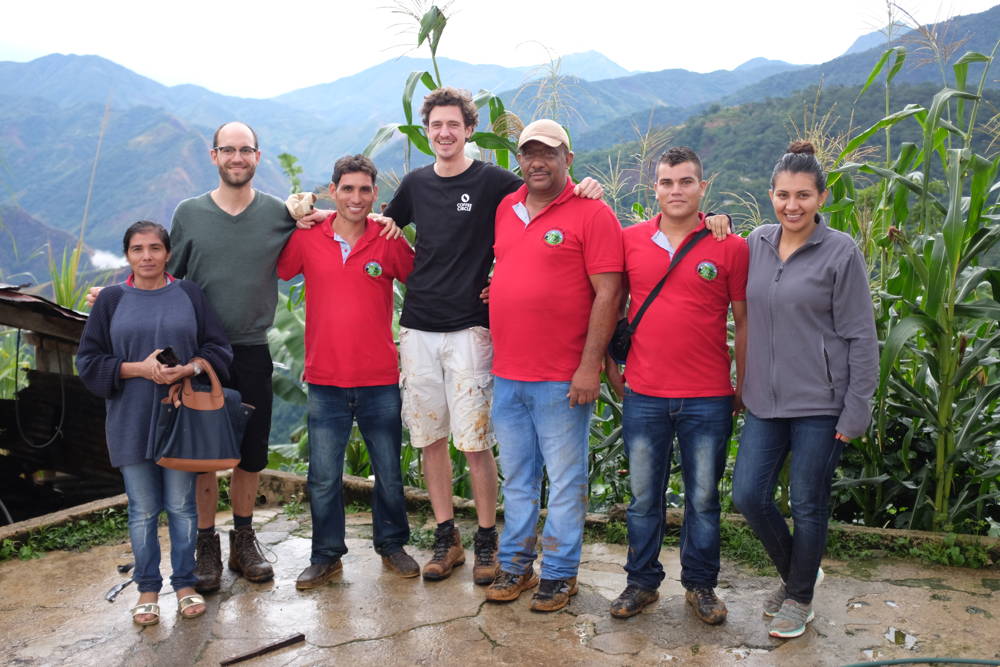 Unsere Partner in Kolumbien
Seit 2015 arbeiten wir eng mit den Farmern in Kolumbien zusammen.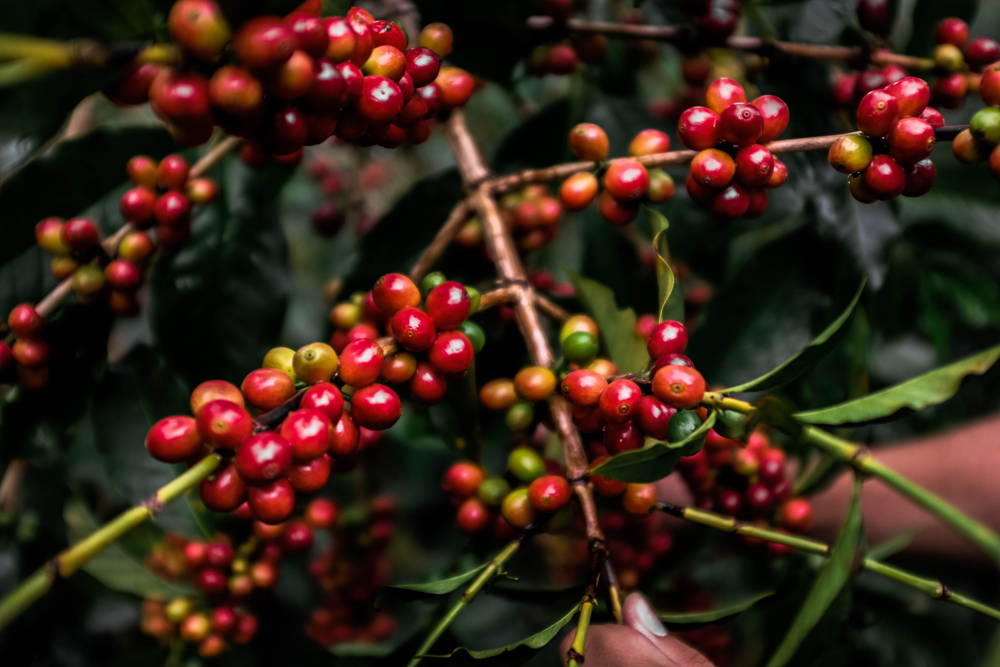 Reife Kaffeekirschen
Wusstest du, dass Kaffee eine Frucht ist? Das, was wir als Kaffeebohne kennen, ist der Kern der Kaffeekirsche.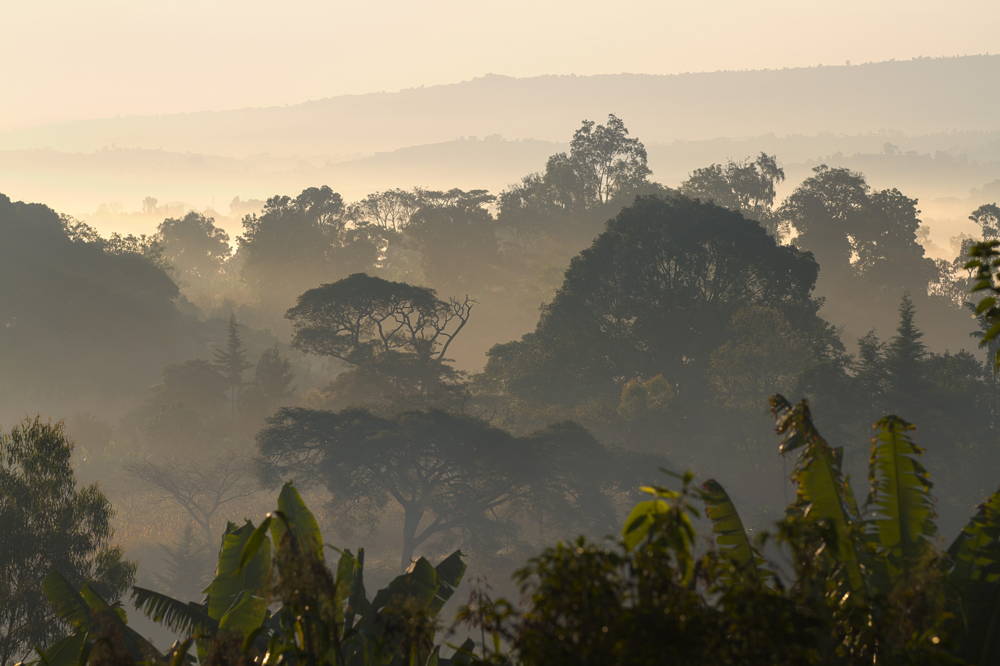 Atemberaubende Landschaft
Äthiopien bei Sonnenaufgang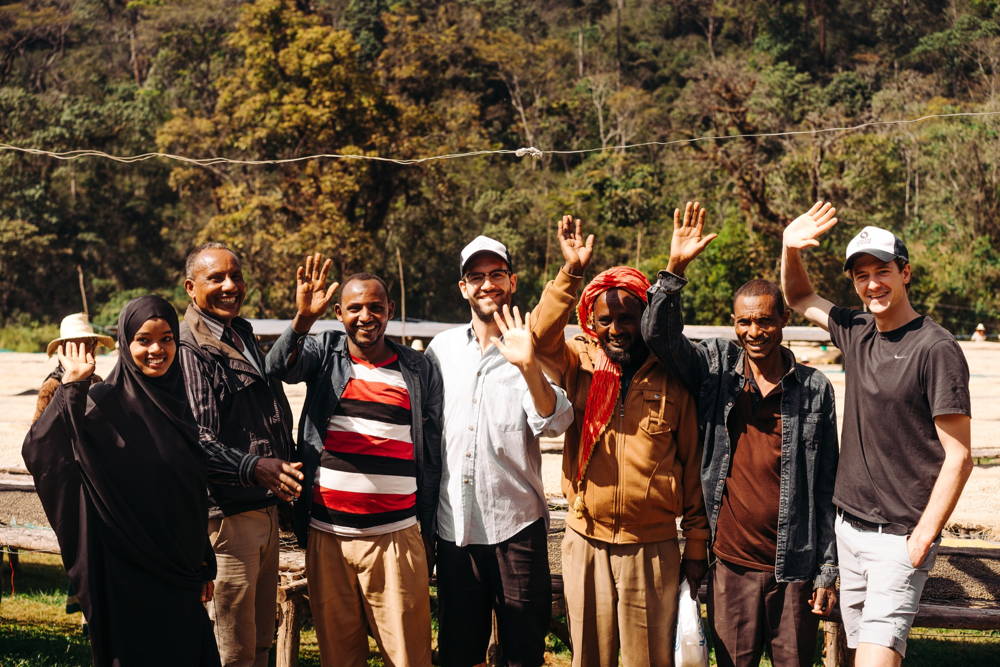 Regelmäßiger Austausch mit unseren Partnern
Bei unseren Besuchen vor Ort tauschen wir mit den Farmern unser Wissen und Erfahrungen aus. Die regelmäßigen Besuche ermöglichen es uns, die Umstände vor Ort besser zu verstehen.
Follow us on our journey to really good coffee, for everyone.