Yirga Santos is a full-bodied espresso blend with 25% Robusta content. It forms a wonderful crema and tastes outstanding in milk based drinks.
Full-bodied, rounded espresso with rich chocolate aromas
75% Arabica, 25% Robusta coffee
Blend of Ethiopian, Brazilian and Indian beans
| | |
| --- | --- |
| Taste | Brown Sugar, Chocolate |
| Strength | |
| Acidity | |
| Sort | 25 % Robusta, 75 % Arabica, Blend |
| Origin | Brazil, Ethiopia, India |
Yirga Santos is your golden ticket to the chocolate factory
100 % natural
Yirga Santos Espresso is an optimal blend from three countries of origin. The blend of 75 % Arabica and 25 % Robusta beans produces an intense and round espresso with rich chocolate and nut aromas – a result of the natural aroma of the coffee cherry.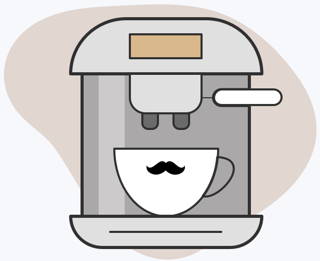 Preparation tips
Try the Yirga Santos, ideally freshly ground, prepared in an espresso machine or in the mocha pot. The Yirga Santos also tastes great as a cappuccino.
Fresh roasting in Berlin
The Yirga Santos is roasted for about 18 minutes at almost 220 °C. The gentle drum roasting allows the flavors to develop better. Since we roast the espresso in small batches, it is always delivered fresh to you and you enjoy a particularly balanced and chocolaty espresso.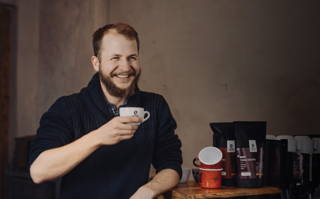 Yirga Santos Espresso is also available by subscription
Automatic delivery to your home
Adjust or pause at any time
Can be cancelled at any time
Origin
100% natural cultivation
In this coffee we combine the fine Limu beans with high quality beans from Brazil and premium Robusta beans from Indonesia. This blend of 75% Arabica and 25% Robusta beans provides an intense and round espresso with full-bodied flavors of chocolate and nuts that will please lovers of strong coffees. Important to us in our blend is that all three coffees are naturally grown.
The APAS cooperative
Slope: Mantequiera de Minas, Minas Gerais, Brazil.
Geo coordinates: 22°00'08.9″S 44°44'51.4″W
Altitude: 1,200 m
Plant: bourbon, typica, caturra, catuai, mundo novo.
Processing: natural
The Bore Dinsera cooperative
Slope: Agaro, Limu, Ethiopia.
Geo coordinates: 7°54'38.7″N 36°26'32.4″E
Altitude: approx. 2,020 m
Coffee farmers: approx. 300
Plant: local landraces, Arabica
Processing: washed
Harvest time: October – January
The Dampit farm
Origin: Aurelia Da'Gabo, East Java Indonesia.
Geo coordinates: 7°57'05.7″S 113°59'14.3″E
Altitude: 400-500 m
Coffee farmers: 50
Processing: natural

Where does the Espresso Blend Yirga Santos come from?
Minas Gerais in Brazil
Brasil coffee comes from the APAS cooperative in the Mantequiera de Minas region in the state of Minas Gerais in southeastern Brazil. The cooperative is structured as a smallholder and the farmers not only attach importance to the highest coffee quality, but also to fair production conditions. The cultivation area is located at an altitude of about 1,200 m, where the coffee is carefully harvested and processed. The coffee cherries dry in the sun after harvesting (processing "natural"), so that the coffee develops a ripe sweetness and brings a wonderful chocolaty note.
Limu in Ethiopia
Limu coffee comes from the Bore Dinsera cooperative, located in western Ethiopia. Here, the coffee cherries are grown at an altitude of 2,000 meters in shady forest gardens. After harvesting, the cherries are delivered to the cooperative's washing station and processed centrally. In the region, we are working closely with ten cooperatives on our Education and Quality Training project. In doing so, we help the farms to improve the quality of their produce – for higher income in the long term. This improves the farmers' living conditions in the long term.
Indonesia Robusta
For our blend, we found a Robusta coffee from the island of Java in Indonesia. This region is known for the best Robusta of Indonesia. When selecting the cherries, only the ripe Robusta cherries are picked for which a premium is paid, allowing the coffee to achieve the scoring of a "fine Robusta". The coffee is dried in the cherry, thus processed naturally.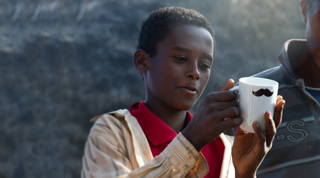 Clean drinking water for 18.900 people in Ethiopia
With every cup of coffee you support our drinking water projects in the coffee regions in Ethiopia.