Baratza Encore Coffee Grinder
The Baratza Encore is a high quality, high-performance entry-level grinder for filter coffee.
Test winner from our coffee grinder test
40 grinding settings - from very coarse to very fine
Durable conical grinder made from stainless steel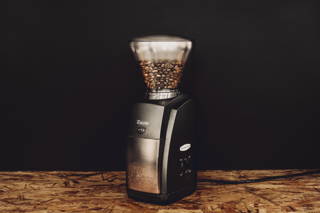 Our winner in the coffee grinder test
Baratza Encore - the affordable quality mill
The Encore is Baratza's entry-level model. The American manufacturer of coffee grinders is known for its innovative and durable products. With the Baratza Encore you can grind coffee optimally for most brewing methods: From hand filter and Chemex to AeroPress and French Press, you can achieve good grinding results. The coffee grinder is hard to beat in its price range and grinds constantly and relatively quietly.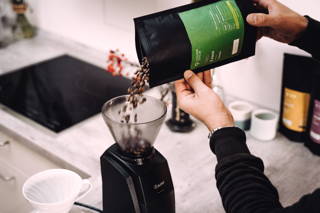 Consistent grinding result
The grinder is equipped with a 40 mm cone grinding mechanism which grinds homogeneously and produces little heat. This leads to better extraction during brewing. Due to the lower temperature development, the coffee particles hardly heat up at all and retain their aroma. You can choose between 40 grind levels, so you can adjust the right grind for each filter method.
With Speedcontrol & automatic switch-off
The Baratza Encore has innovative features. The integrated Speedcontrol ensures that the grinder rotates constantly at 450 U/min and does not heat up the ground material too much. Unfortunately, it happens again and again that stones and other foreign bodies mix with the coffee beans, damaging or even rendering the grinders unusable. The Encore's automatic shut-off system ensures that no damage is caused by foreign objects in the grinder and that the grinder stops the grinding process immediately.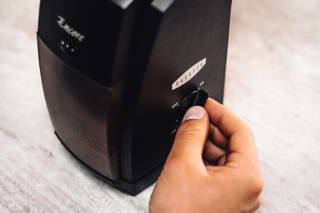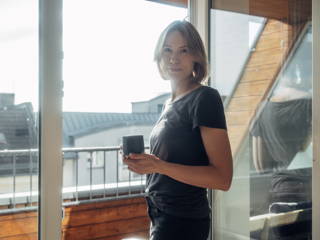 For the perfect introduction to the world of good coffee
The Baratza Encore convinces us with its high quality cone grinding mechanism and the affordable price. The grinder is also easy to clean and has a collecting container for direct grinding. We recommend you use the Encore for filter coffee. According to the manufacturer, it is also suitable for espresso, but we recommend using specialized espresso grinders, because the Encore is a little difficult to use with very fine grindings. For all those who have even higher demands with regard to the homogeneity of the ground coffee, we recommend e.g. the Eureka Filtro 15BL.
Baratza Encore: winner of the grinder test
We have tested 11 coffee grinders. In our video you can see why the Baratza Encore is among the three winners.
Our set recommendation
Filter coffee beginner set
Our alternative
Graef CM 800 - suitable for espresso
Our upgrade recommendation
Eureka Filtro 15BL
Overview of technical details
GRINDER DETAILS
Suitable for espresso : no
Suitable for filter coffee : yes
Grinding mechanism : Conical grinding mechanism
Grinder Material : Steel
Grinding mechanism Ø : 40 mm
Grinding capacity : 0.8 – 1.1 g/sek
Speed : 450 rpm
Number of grinding steps : 40
Continuously adjustable : no
FEATURES
Display : no
Grind on Time : no
Grind on Weight : no
Programmable : no
Insert for screen carrier : no, but screen carrier can be kept clean
Bean container size : 227 g
GENERAL
Body material : plastic
Motor power : 110 W
Weight : 3.100 g
Dimensions (W | H | D): 12 | 35 | 16 cm
Power supply : 230 V
Warranty : 24 months
Manufacturer's name : Baratza Encore coffee grinder
Manufacturer number : BA385
EAN : 0838823004857