The original Chemex coffee carafe in several sizes.
Unique coffee maker for wonderfully aromatic, clear filter coffee
Hardly any sediment or bitter elements, thanks to specially designed Chemex paper filters
Brewing and serving vessel in one
Design meets really good coffee
The Chemex coffee maker is absolutely unique in every aspect: filter coffee of incomparable clarity and the outstanding design ensure that the Chemex is not without reason a category of its own in our preparation methods. The carafe is made in one piece of heat-resistant borosilicate glass and comes with a wooden sleeve for very easy handling. Functionality and design are combined in a practical and elegant coffee maker.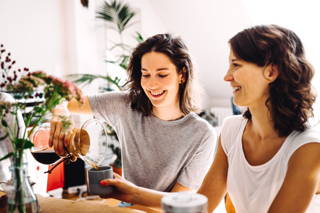 What makes coffee from the Chemex special
Chemex has launched a completely new type of paper filter in addition to the innovative carafe. The paper used is 20-30 % thicker than conventional filters and has a particularly fine-pored structure. This means that considerably more oils and very small particles are retained during the brewing process. The result is a very clear, nuanced filter coffee, which typically emphasizes the natural sweetness of the coffee. The Chemex allows high-quality coffees to unleash their full taste potential and is ideal for coffee drinkers who prefer a fine and extremely aromatic coffee.
Legendary Design
Its extraordinary design in the form of an hourglass has won many awards and has earned the Chemex a permanent place in the exhibition of the Museum of Modern Art in New York and a place in the Top 100 design products of modernity. It was invented by the German chemist Dr. Peter J. Schlumbohm. The chemist who lived in New York at the time designed the Chemex in 1939 with all his experience in filter techniques and extraction processes. For example, the groove in the upper part of the jug not only makes pouring easier but also allows water vapor from the already filtered coffee to escape past the filter, out of the belly of the Chemex.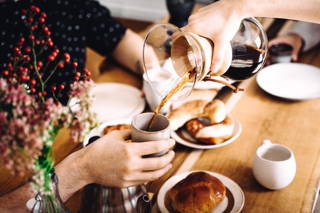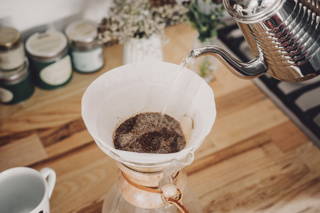 Versatile usage possibilities
Owners of the Chemex do not have to limit themselves to brewing filter coffee. Of course, the long-lasting glass carafe is also suitable for brewing good teas because the special glass does not take on any foreign aromas. It is also possible to brew coffee over ice cubes in summer: With the so-called Ice Brew, the water quantity is divided in a 50:50 ratio. One half of the water is put into the carafe as ice cubes, the other half of the water is used to brew the coffee (above the ice cubes). The freshly brewed, hot coffee drips onto the ice and cools down immediately. The result is a particularly mild, aromatic coffee that ensures refreshing coffee enjoyment even on warm summer days.
In this video we show you how to make really good coffee with the Chemex
Our accessory recommendation
Our equipment recommendation
Overview of technical details
1 to 3 cups
Scope of delivery : heat-resistant glass carafe, brown wooden cuff, leather cord
Material : Borosilicate glass, wood, leather
Capacity : 470 ml (1 pint)
Dimensions ( H | Ø belly | Ø opening ) : 21 | 11 | 8 cm
Weight : 310 g
Cleaning : dishwasher-safe, cuff and leather cord can be removed
Design : Dr. Peter J. Schlumbohm
Manufacturer : Chemex® Corp.
Model Number : CM-1C
EAN : 0028068001364
ASIN : B004BEQFVY
6 CUPS
Scope of delivery : heat-resistant glass carafe, brown wooden cuff, leather cord
Material : Borosilicate glass, wood, leather
Capacity : 900 ml (30 oz)
Dimensions ( H | Ø belly | Ø opening ) : 21,5 | 13,5 | 13,5 cm
Weight : 520 g
Cleaning : dishwasher-safe, cuff and leather cord can be removed
Design : Dr. Peter J. Schlumbohm
Manufacturer : Chemex® Corp.
Model Number : CM-6A
EAN : 0028068001012
ASIN : B0000YWF5E
8 cups
Scope of delivery : heat-resistant glass carafe, brown wooden cuff, leather cord
Material : Borosilicate glass, wood, leather
Filling capacity : 1,18 l (40 oz)
Dimensions ( H | Ø belly | Ø opening ) : 23,3 | 16 | 13,5 cm
Weight : 590 g
Cleaning : dishwasher-safe, cuff and leather cord can be removed
Design : Dr. Peter J. Schlumbohm
Manufacturer : Chemex® Corp.
Model Number : CM-8A
EAN : 0028068001029
ASIN : B000I1WP7W
10 Cups
Scope of delivery : heat-resistant glass carafe, brown wooden cuff, leather cord
Material : Borosilicate glass, wood, leather
Filling capacity : 1,48 l (50 oz)
Dimensions ( H | Ø belly | Ø opening ) : 23,5 | 16 | 13,5 cm
Weight : 700 g
Cleaning : dishwasher-safe, cuff and leather cord can be removed
Design : Dr. Peter J. Schlumbohm
Manufacturer : Chemex® Corp.
Model Number : CM-10A
EAN : 0028068001036
ASIN : B000NTMHRW
Our coffee recommendation