Our House Blend Espresso consists of 100% Arabica beans and combines varietals from Ethiopia and Colombia to create a well balanced and medium-strong espresso.
Medium roast with notes of marzipan and nougat
Balanced, slightly sweet taste
Fresh and gently drum-roasted blend
Pure Arabica beans, hand-picked
| | |
| --- | --- |
| Taste | Marzipan, Nougat |
| Strength | |
| Acidity | |
| Sort | 100 % Arabica, Blend |
| Origin | Brazil, Columbia, Congo, Laos |
Full-bodied espresso with hints of marzipan and nougat
100 % natural
The House Blend Espresso is a medium-bodied and rich espresso blend made from 100 % Arabica beans. In the House Blend we combine the taste of nutty chocolate notes from Brazil, Colombia and Laos with spicy coffee from D.R. Congo. The taste of the espresso reminds of marzipan and nougat.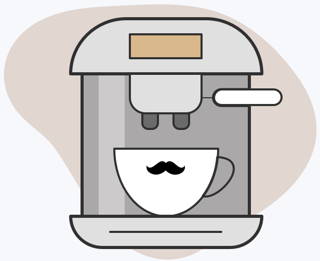 Preparation tips
The House Blend Espresso is very well suited for preparation in the espresso machine, in a fully automatic machine and in the moka pot. It is best to grind the espresso freshly at home to get the optimum of aromas.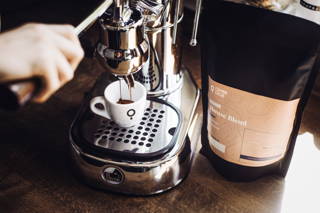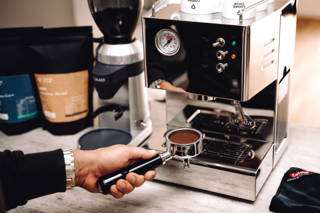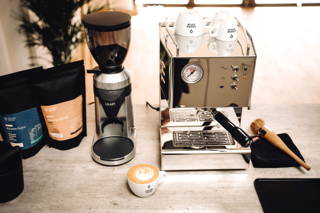 Fresh and careful roasting in Berlin
The House Blend is a medium strength Espresso-Blend, which our roasting masters roast in 50 kg batches until right before the so-called second crack. This refers to the coffee oils coming to the surface (also known as "Full City").
The medium dark roast not only makes the espresso taste particularly aromatic, the crema also turns out rich.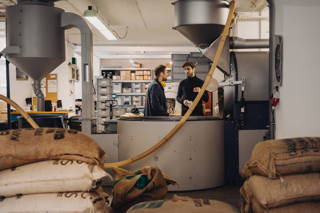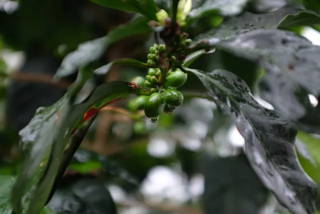 House Blend Espresso is also available by subscription
Automatic delivery to your home
Adjust or pause at any time
Can be cancelled at any time
Origin
100% natural cultivation
The name of the House Blend gives it away: This is a blend, i.e. a coffee mixture from four different origins. All coffees are 100% Arabica beans and are grown in a natural way.
The first component comes from Brazil, from the farm Fazenda Sertão, which we visited in November 2018. The farm owner Nazareth Dias Pereira and his family do a great job on their coffee. It results in a very nutty yet slightly fruity Brazilian coffee.
The "Fazenda Sertão" farm
 Origin: Farm Fazenda Sertão, Carmo de Minas, Brazil
Geo coordinates: -18° 45′ 28.18″ -46° 58′ 27.09″
Altitude: 1,050 m
Coffee farmer: Nazareth Dias Pereira and his family.
Processing: natural processed
Plant: Yellow Bourbon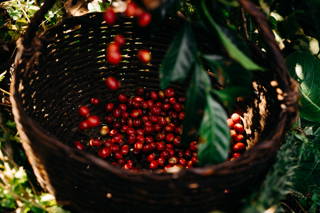 The ASCISP Cooperative
Slope: Gaitania, Planadas, Tolima, Colombia
Geo coordinates: 3°05'18.8 "N 75°42'51.5 "W
Height: 1.800 m
Number of coffee farmers in cooperative: 150
Processing: washed
Plant: Castillo, Caturra, Colombia, Típica (Arabica)
The Daterra Farm
Origin: Farm Daterra, Minais Gerais, Cerrado region, Brazil
Geo coordinates: -18° 45′ 28.18″ -46° 58′ 27.09″
Height: 1.855 m
Coffee farmers: Family Pascoal and employees
Processing: pulped natural
Plant: Bourbon, Typica, Caturra, Catuai
The Kawa Kabuya Cooperative
Slope: Kawa Kabuya Cooperative, North Kivu, D.R. Congo
Geo coordinates: 0°06'47.1 "N 29°20'28.4 "E
Height: 2.730 m
Number of coffee farmers in cooperative: 2,500
Processing: washed
Plant: Bourbon
The Jing Jhai Cooperative
Slope: Jing Jhai, Bolaven Plateau, Laos
Geo coordinates: 15°06'23.4″N, 106°11'45.2″E
Height: 1.200 m
Number of coffee farmers in cooperative: 298
Processing: honey processed
Plant: mixed Arabica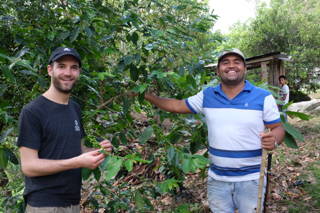 Direct trade at eye level
On our travels we try dozens of coffees in cuppings, with the aim of selecting the best coffees from the current harvest. No, it never gets boring! We taste and smell ourselves through countless aromas in completely different combinations. Our aim is not only to discover the best coffees in the world, but also to get to know the people and their lives who grow these coffees.
With every cup of coffee you support our projects!
1 € per kilogram of coffee automatically goes to one of our social projects in Ethiopia or D.R. Congo. In this way we support the coffee farmers together in building a better life with the help of growing coffee.