Tiga Terra Coffee & Espresso
Tiga Terra is what we believe, the best suited coffee for fully automated machines. Its strong and complex flavor notes go well with every drink from café crème, espresso to milk drinks. Over many months, we have worked together with customers to refine the recipe for this unique coffee. This coffee blend consits of highest quality beans from Brazil, Indonesia and Guinea.
| | |
| --- | --- |
| Taste | Chocolate, walnut |
| Strength | |
| Acidity | |
| Sort | 40 % Robusta, 60 % Arabica |
| Origin | Brazil, Guinea, Indonesia |
Complex flavor with very little acidity
FULL BODY WITH NUTTY AROMAS
For Tiga Terra, we combine three coffees full of character that complement each other ideally: chocolatey, nutty notes from Brazil, a full, creamy body from Guinea with spicy aromas from Indonesia. The coffees are roasted vigorously and are particularly low in acidity.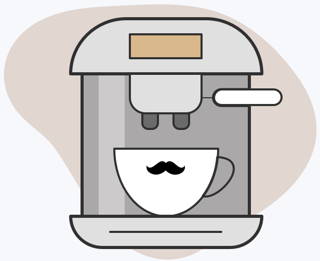 Preparation tips
Our roasters have developed the Tiga Terra especially for preparation in fully automatic coffee machines. Thanks to a strong roasting profile, the coffee is suitable for all beverage preparations of café crème, espresso and for milk drinks. The coffee tastes strong and creamy, but never bitter or sour. Tiga Terra can also be used well in the espresso machine.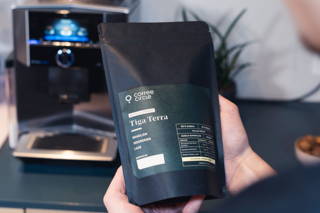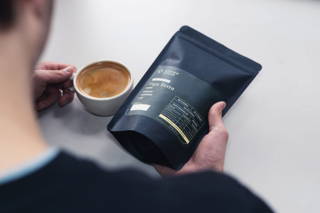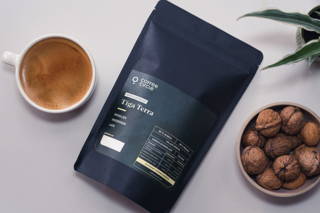 Fresh roasting in Berlin
We roast the Tiga Terra in a gentle drum roasting process in Berlin, exactly up to the point where the complex aromas of the green coffees develop optimally. The Tiga Terra is roasted vigorously until it reaches the point of the so-called "second crack", so that the surface of the beans begins to oil only minimally. It is roasted in 60 kg batches to a final temperature of 220 °C in about 15:30 minutes.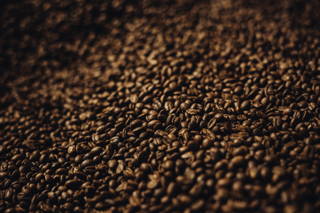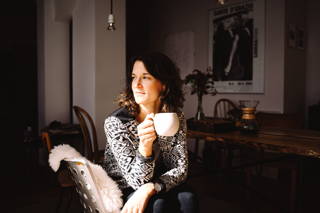 Tiga Terra is also available by subscription
Automatic delivery to your doorstep
Easily edited or paused any time
Can be terminated any time
Origin
Blend from Brazil, Indonesia and Guinea
Tiga Terra is made up of three very different green coffees, each of which brings its own wonderful character. The basis is a coffee from Brazil from the Daterra farm, which we visited in November 2018 and from which we have been sourcing coffee regularly ever since. The coffee provides a particularly low acid base for the coffee blend with pleasant aromas of nut and chocolate. The beans from Indonesia also give the Tiga Terra a complex spiciness. The coffee is rounded off with Fine Robusta from Guinea, from our friends at Macenta Beans. The 40% Robusta content adds a full and creamy body and provides the slightly tart note of dark chocolate. All coffees come from direct trade relationships.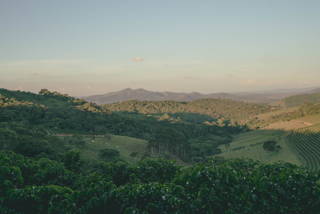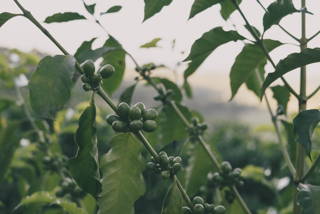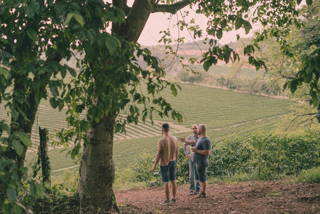 Brazil: Daterra
Origin: Farm Daterra, Cerrado, Brasilien
Geo coordinates: -18° 44′ 57.59″, -46° 59′ 32.34″
Altitude: 1.200 m
Coffee farmer: Pascoal family.
Processing: natural processed
Plant: Catuai, Mundo Novo, Bourbon
Indonesia: Atu Lintang
15 %
Slope: Sumatra, Indonesia
Height: 1.350 m
Processing: wet hulled
Plant: Tin, Tin
Geo-coordinates: 4°25'51.0″N 96°46'25.0″E
Guinea: Macenta Beans
Slope: Sengbendou, Guinea
Height: 700 m
Farm: Farmers in Macenta
Processing: washed processed
Plante: Coffea Canephora (Robusta)
Geo-coordinates: 0°01'13.5″N 31°24'52.7″E