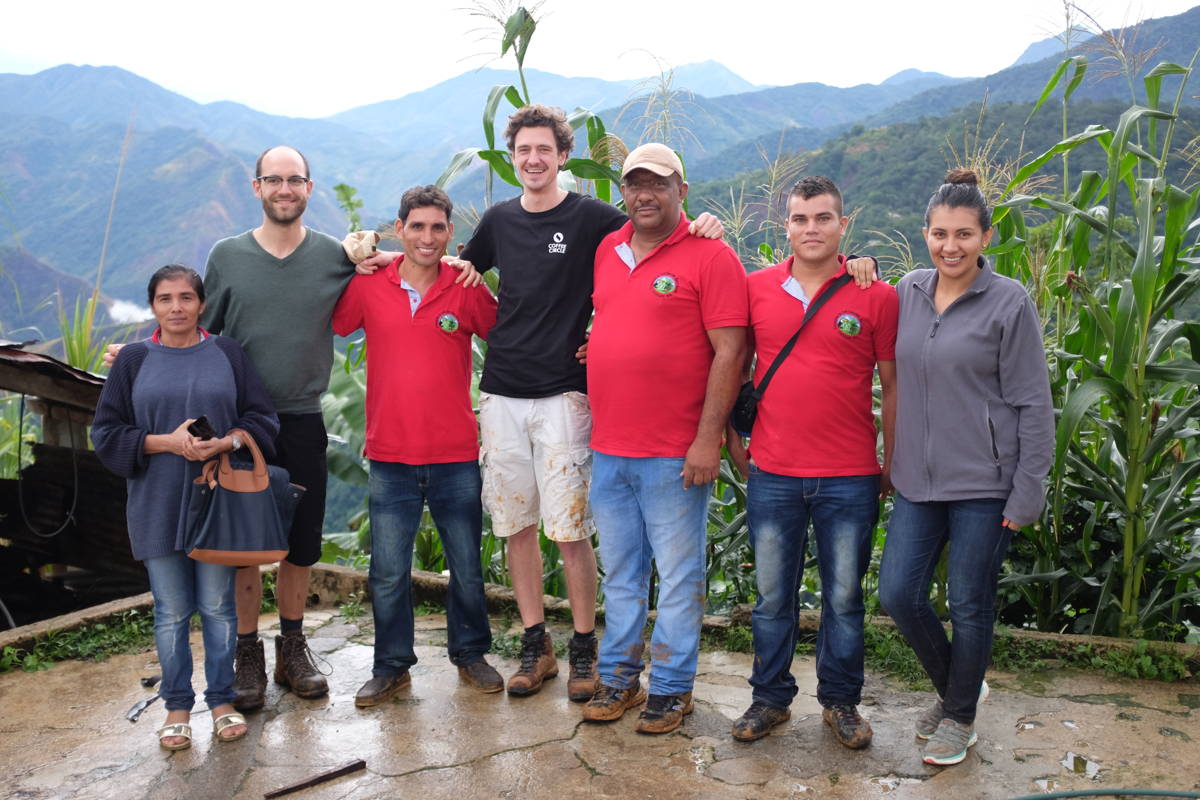 Making good coffee better – Coffee Quality Lab in Colombia
There are several ways to increase the quality of green coffee and thus generate higher revenues and wages for farmers. But to do this, you first have to know how the coffee tastes, cup it, and analyze it. Some cooperatives are unable to do this because they do not have their own quality lab. That can be changed.
In the Democratic Republic of Congo, we have financed a cupping lab with donations, as we report here. This establishment of laboratories has proven to be much more effective than organic labeling in raising revenues for cooperatives and wages for farmers. However, the establishment of the Quality Lab in Colombia is not one of our traditional projects for which we spend donations.
In a nutshell
Project volume: $8,101 (from direct sales)
Implementation period: 2017
Region: Cienaga-Magdalena, Colombia
Cooperative: COOCAFE
Geo coordinates: 11.00779222858458, -74.24693179917088
Beneficiaries: 335 people (67 farmers and their families)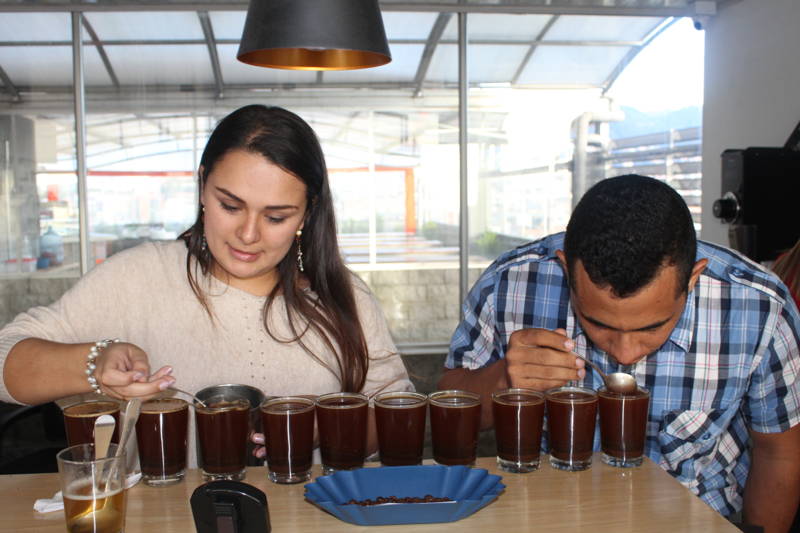 Why was this project so important?
Quality or cupping labs are crucial for cooperatives because they are where quality checks of coffees are carried out. This allows the cooperative to determine how high the quality of each farmer's coffee is, ergo how it could be improved, should it be necessary.
In 2016, we added our first Colombian coffee to our portfolio: Sierra Nevada, which we still carry today. For many years, our partner was the COOCAFE cooperative, from which we sourced the beans. In the meantime, we work with the Asobombo cooperative. The quality of the green coffee was excellent, but in detailed discussions with the cooperative, it quickly became clear that the farmers considered the establishment of a Quality Lab to be an urgent issue. However, at that time they did not have the financial means to set one up with the necessary equipment. We decided to support the cooperative so that they could realize their dream.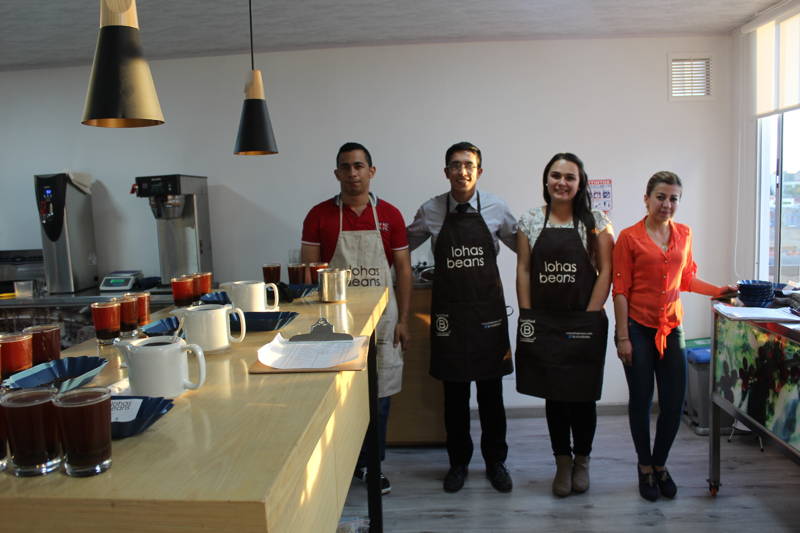 However, unlike our traditional projects – such as the establishment of a cupping lab in the D.R. Congo – we did not finance the lab in Colombia through donations. Our roaster Hannes Fendrich was on site together with Coffee Circle managing director and co-founder Martin Elwert.
Stephan Eicke: Hannes, you agreed at the time to pay a quality premium. How does that work?
Hannes Fendrich: Coffee Circle paid COOCAFE a "quality premium" of US$0.20 per pound of coffee in addition to the regular purchase price. The cooperative spent this amount exclusively on measures to improve coffee quality. From the annual amount of the premium for our coffee purchases in 2017, COOCAFE was able to finance its own Quality Lab.
Has the building for the laboratory already been erected?
Yes, COOCAFE has cleared an extra room for the Quality Lab, where the cooperative can devote itself exclusively to evaluating coffee quality. The equipment now includes a sample roaster, a coffee grinder, several kettles, scales, cupping spoons, and cupping cups.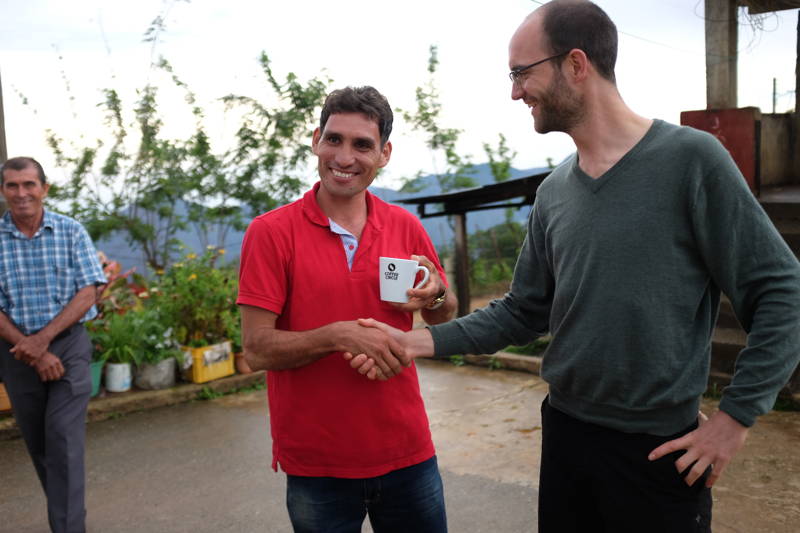 How was this project implemented?
A fully equipped Quality Lab can hardly be crowned with success without the necessary expertise.
The cooperative used the additional income from coffee sales to buy, among other things, the aforementioned roaster, coffee grinder, kettle and 45 cupping spoons. But a fully equipped Quality Lab can hardly be crowned with success without the necessary expertise.
How can knowledge be transferred to ensure that quality improvements are competently planned and implemented in the long term? To this end, COOCAFE has selected a quality manager: Luilly is a member of the cooperative and a young, enthusiastic farmer. After intensive studies and attending several training courses on coffee tasting and evaluation, Luilly was appointed quality manager of the cooperative and thus head of the Quality Lab. He has been passing on his knowledge ever since.
Stephan Eicke: Was it possible to implement the project as you had hoped?
Hannes Fendrich: Yes. In the Quality Lab, the coffee of all farmers can now be roasted and tasted. This allows Luilly to provide individual feedback and create personal taste profiles for them. This feedback is immensely helpful, as the farmers can now receive individual advice on how to improve their coffee quality even further.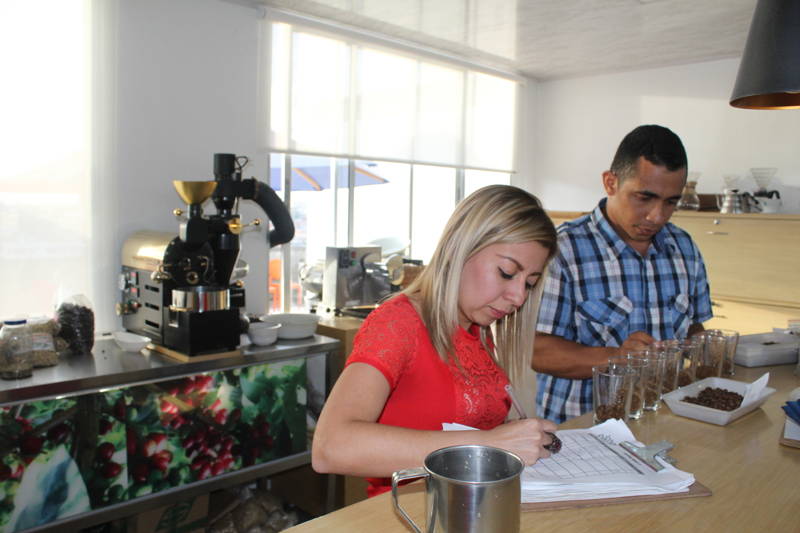 Our coffees from Colombia
What has changed?
Before the lab, feedback was only received after harvest, and only for the cooperative as a whole, not for the individual farmers. That has changed with the Quality Lab: The cooperative can now obtain the quality of the coffee before harvesting and, if necessary, initiate measures to improve quality, thereby demanding higher prices from the buyers and thus also achieving higher wages for the farmers.
In addition, the Coffee Quality Lab enables farmers to taste their coffee themselves. Often they don't even know what their own coffee tastes like. And this ultimately encourages the younger generation to learn more about coffee and analyze it in order to develop professionally.
In the meantime, we have started working with another cooperative, the aforementioned Asobombo. This change, however, had nothing to do with the quality of the coffee, but with the hurdles of bureaucracy: Due to stricter requirements in organic regulation, however, COOCAFE could no longer procure organic coffee. We were therefore forced to switch to another cooperative. However: We are currently working intensively on a resumption of business relations with COOCAFE and will of course keep you up to date.
A report by Stephan Eicke