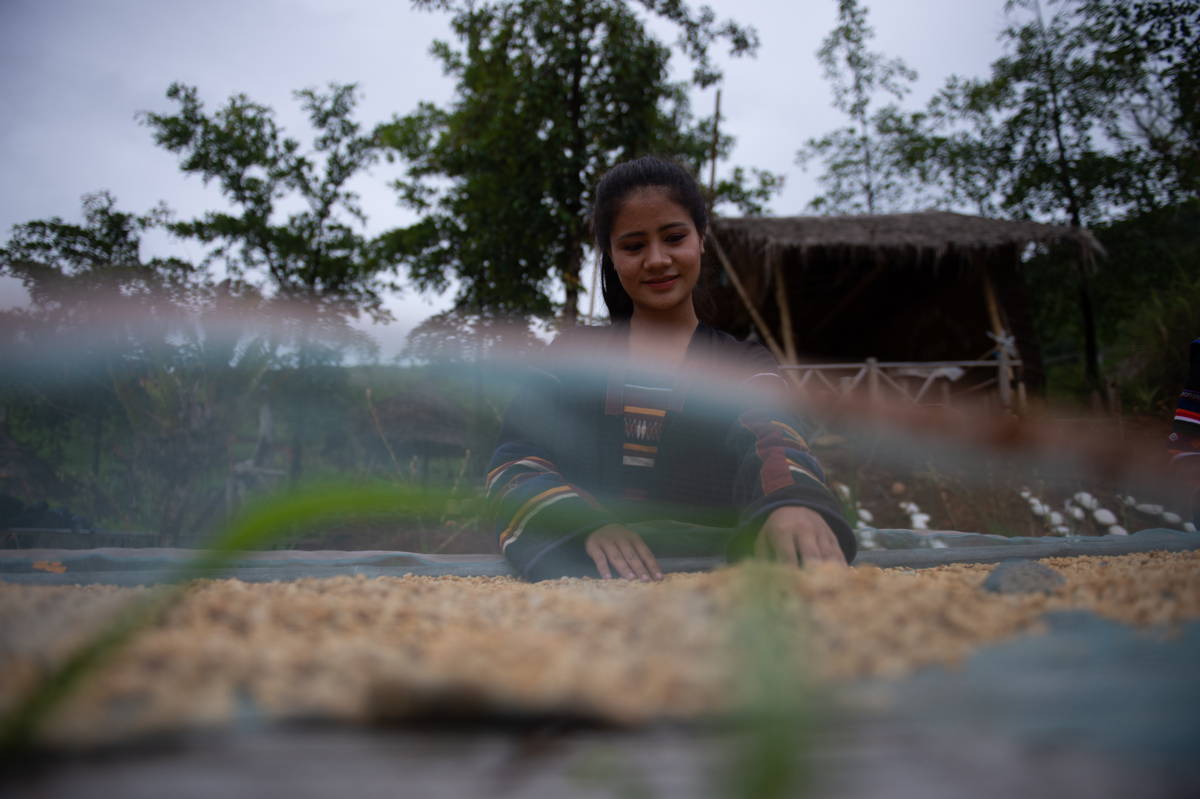 Consultation of and cooperation with farmers in Myanmar
Coffee cultivation in Myanmar has only been practiced by cooperatives and farmers in the highlands for a few years. We support them to increase the quality of their coffee and to make it better known in Europe. With your coffee purchase you contribute to this!
In 2020 and 2021, we accompanied coffee producers in Myanmar during the harvest and evaluated their coffees. Together with our partners, the Gesellschaft für internationale Zusammenarbeit (GIZ) and Conflictfood from Berlin, we supported the farmers with advice and our experience in the cultivation of specialty coffee and accompanied their entry into the European coffee market. This is the only one of our projects for which no donations were made. Instead, we supported our partners with our time and expertise.
At a glance
Time frame: 2020-2022
Region: Keng Tung, Shan State, Myanmar
Cooperatives: Jadae Akha Coffee Group
Geo coordinates: N21° 17′ 0.228″ E99° 37′ 24.707″
Project partners: Deutsche Gesellschaft für internationale Zusammenarbeit (GIZ) and Conflictfood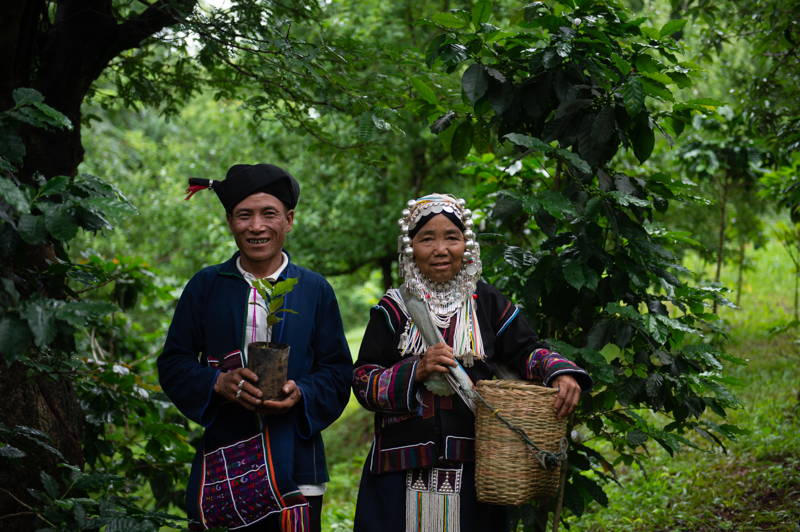 Why was this project so important?
High-quality specialty coffee from Asia is not prominently represented in the coffee scene – especially not as single origin. For some years now, individual farmers and cooperatives have started to invest in the cultivation of specialty coffee. We came into contact with coffee from Myanmar some years ago through friends and were already impressed by the efforts and potential of the coffee farmers there.
The 21 farmers of the Jadae Akha Coffee Group belong to the local Akha minority. For them, growing coffee and tea means economic independence and a secure future. In Myanmar's eastern Shan State, in Keng Tung, the cooperative is geographically isolated from the rest of the country. The location and the political insecurity of the neighboring regions make it difficult for the minorities living there to trade. Shan State has ideal conditions for growing high-quality coffee, tea, and a range of herbs and spices for infusions, such as ginger. However, competition in local markets for coffee is fierce, so most coffee is exported at low prices to the mass market. This project was designed to promote coffee as an attractive income-generating opportunity for impoverished rural populations in crisis regions.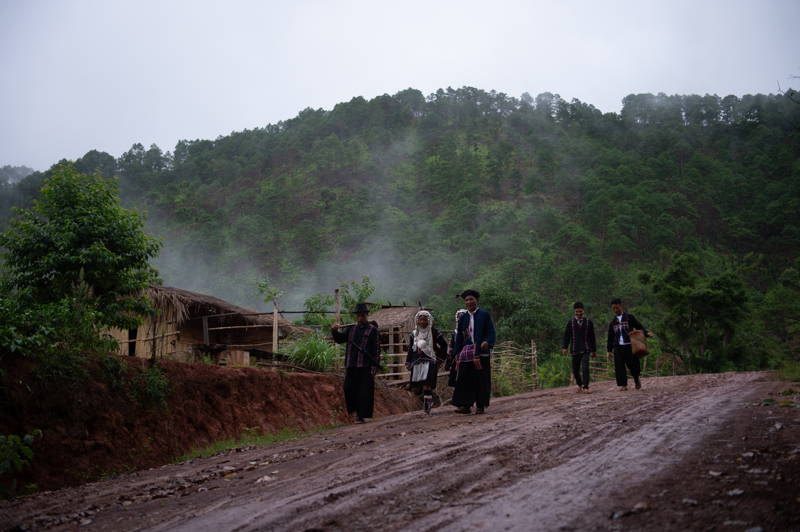 How was this project implemented?
The project was determined by two focal points: Exchange/consultation, and marketing. "Spread the word!" For us and our partners, the aim was to increase the quality of coffee from Myanmar in order to ensure high prices in international trade in the long term. In some coffee regions of the country, poppy has been the main crop, driving farmers into illegality. Coffee offers a real opportunity for a secure life here. We also promoted coffee cultivation in natural forest gardens. In this way, we wanted to ensure that forest gardens in poorer regions received an economic benefit so that they were protected from forest fires and unsustainable use.
Within the framework of the cooperation, the exchange with the farmers and cooperatives was a priority for us, in order to create an understanding on both sides for the needs of all – those of the farmers and those of all buyers (roasting companies). Only in this way can both sides come closer together and produce coffees that offer sustainable perspectives.
As planned, we were also able to advise coffee producers. In three workshops with the Myanmar Coffee Association (MCA), we gave them an insight into the specifics of the German coffee market and what requirements must be met in order to successfully market coffee from Myanmar.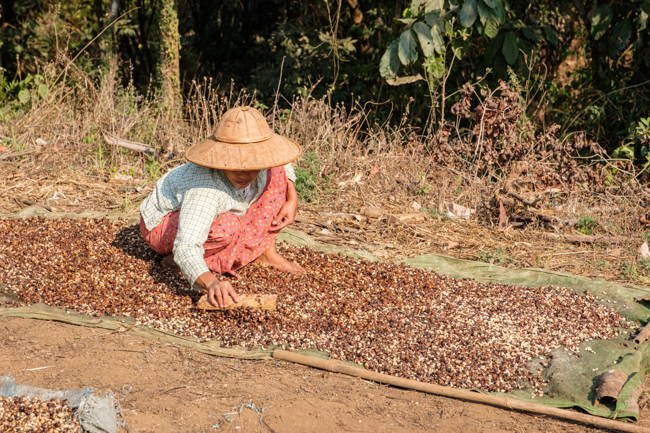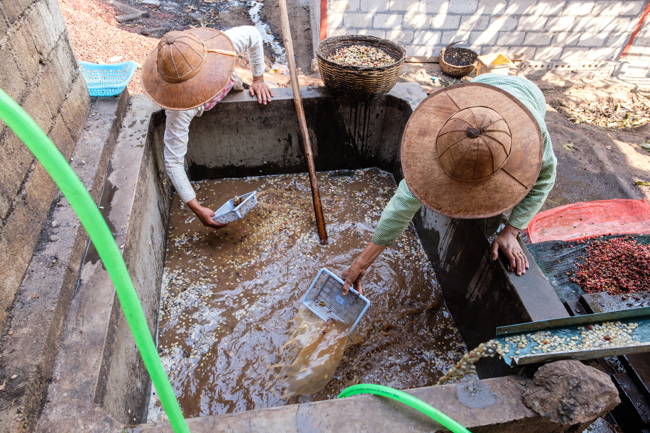 What has changed?
To make the coffees better known on the market, we used our own network. We were able to achieve some of the targeted goals, while others had to be postponed or canceled due to the coup in Myanmar: On February 1, 2021, the elected members of the ruling party were dethroned by the Myanmar military. As a result, military rule was implemented and a national state of emergency was declared. Not only trade, but all aspects of life in Myanmar were made much more difficult as a result.
In view of this, it seems like a miracle that at least part of our efforts were successful. As planned, samples from ten coffee producers in Myanmar were exported to Germany to be tested by us and Conflictfood. We were so impressed with the quality of the coffee from Jadae Akha Coffee Group that we added it to our portfolio and sold it as Jadae in December 2020. Unfortunately, the amount of green coffee available was limited, so we offered it as a limited edition that quickly sold out. The good news is that in 2022, Jadae will return with its delicious flavors of hazelnut and caramel!
Negotiations are also ongoing with a German retail chain specializing in organic products. Conflictfood and we have initiated discussions to encourage the company to offer coffee from Myanmar that not only meets, but exceeds their quality standards.
To implement the tips given to MCA for maximum success in the German coffee market, technical advisors and scientists were to be hired locally. However, this adaptation could not be initiated due to the Covid 19 pandemic and the coup in early February 2021. Another setback was the cancellation of numerous coffee fairs and other events where Conflictfood and we wanted to actively promote coffee from Myanmar. Due to the corona virus, these events could not take place.
Instead, in cooperation with Conflictfood, we were able to distribute limited samples of coffee from Myanmar to small, independent roasters within Germany, thus increasing awareness of the region as a country of origin.
Despite the aforementioned challenges, we have been able to enter into trade partnerships with coffee producers from Myanmar and increase awareness and reputation of the product within Germany. We look forward to offering coffee from Myanmar in our store again soon. In addition, in 2022 – international and national situations permitting – we will be working with, supporting and advising the MCA for the annual MCA Cupping Competition. The winners of this competition will have access to the German market and marketing support as coffee producers.
A report by Stephan Eicke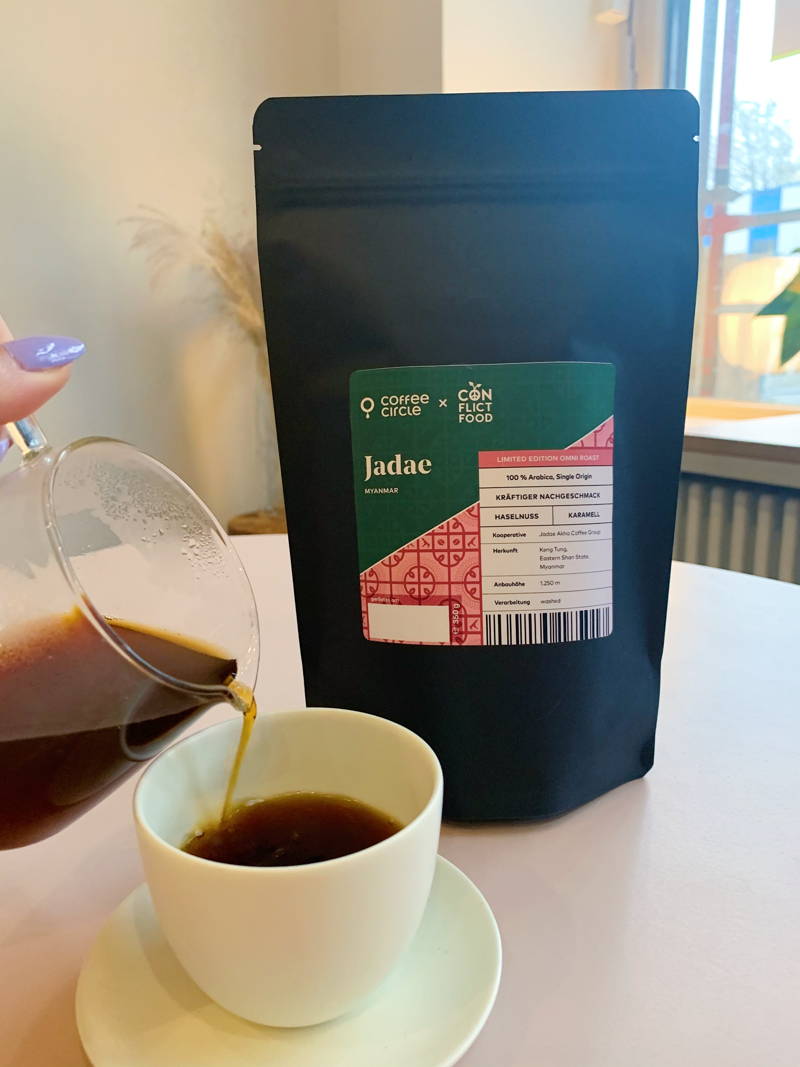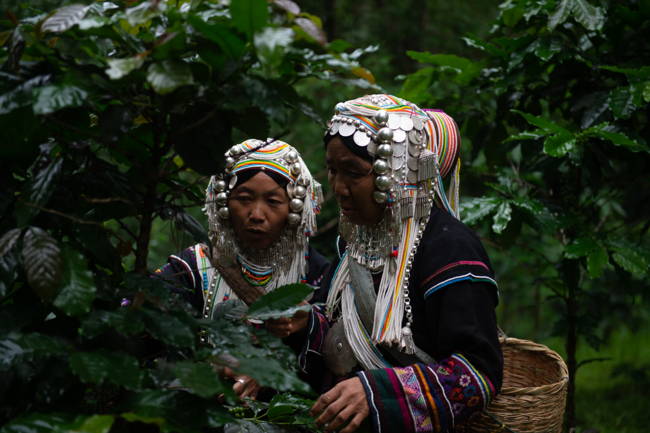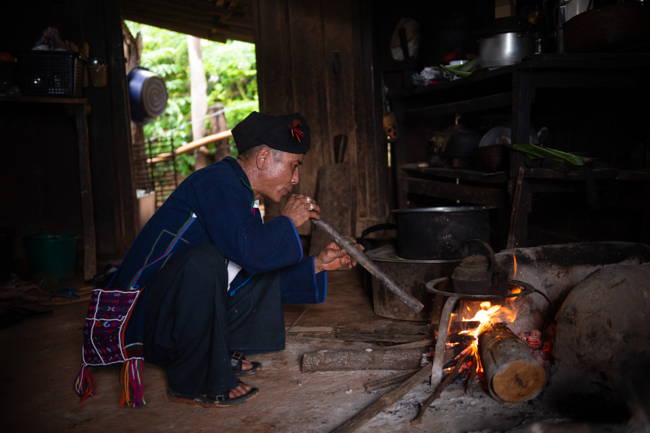 Our coffees