Brewjar & Cold Brew Coffee Set
Cold Brew summer offer: Brewjar and 250 g Karibu coffee in a set. Cold Brew can be so easy.
The best coffee for Cold Brew: 250 g of freshly roasted Karibu coffee.
Test winner: The Brewjar is one of our top cold brew coffee makers.
Frequently bought together...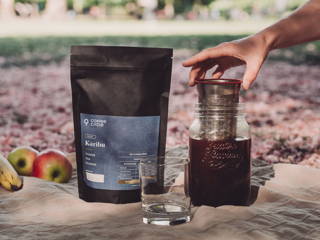 The perfect set for summer
For the picnic with a special kick
The temperatures are rising and the sun is shining – finally it's cold brew time! The dream combination of the Brewjar with our Karibu coffee offers you everything you need for the start of summer.
The Brewjar
With the Brewjar you can prepare up to 1.5 liter of cold brew at once. The brewer has a high-quality finish and is made almost entirely of glass and stainless steel. Thanks to a rubber ring on the filter holder, the glass can be sealed airtight and transported. So you can provide your friends with plenty of cold brew on hot summer days or store leftover cold brew safely in the refrigerator.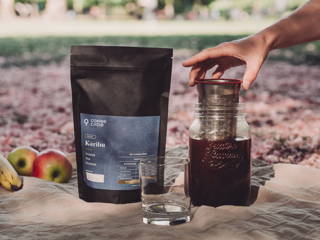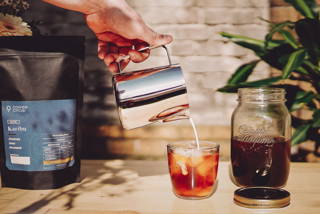 ... and the right coffee
As a cold brew, the Caribou tastes strong and chocolatey at first. In the aftertaste, you will find surprisingly fruity notes. Unlike particularly fruity coffees, which are often used for cold brew, the Karibu combines all flavors from chocolaty to fruity. The coffee is a blend from Colombia, Kenya and Ethiopia and consists of 100% Arabica beans.
Scope of delivery: Quatro Stagioni glass, stainless steel filter, lid, instructions, recipe card.
Material: glass, stainless steel, rubber
Height/width: 22 cm/12 cm
Weight: 0,9 kg
Capacity: 1500 ml (glass), 150 g (filter)
Care: Dishwasher safe
Karibu coffee 350 g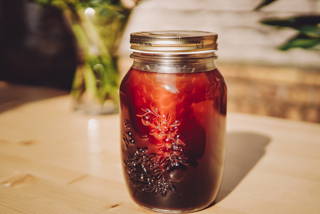 Other products you might like
Our favourites for Cold Brew