The Toleyo is a full-bodied and spicy filter coffee blend from Brazil, Indonesia and Laos. All those who like to drink their coffee strong or enjoy it with milk and sugar will be enthusiastic about the Toleyo.
Spicy flavour reminiscent of nutmeg and cocoa
Strong roast with low acidity
Suitable for all coffee preparation methods
100 % Arabica beans from Brazil and Indonesia
| | |
| --- | --- |
| Taste | Cocoa, Nutmeg |
| Strength | |
| Acidity | |
| Sort | 100 % Arabica, Blend |
| Origin | Brazil, Indonesia, Laos |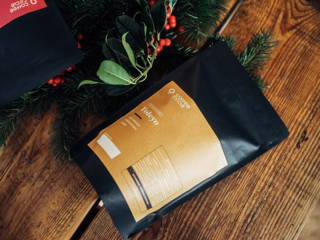 The Toleyo - For fans of strong coffee
100 % natural
The Toleyo is a pleasantly strong and aromatic filter coffee, whose taste reminds us of nutmeg and cocoa. The Toleyo is perfect for coffee drinkers who like their coffee strong or with milk or sugar.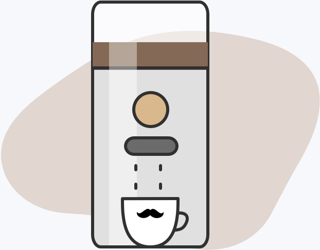 Preparation tips
Toleyo filter coffee is suitable for all methods of coffee preparation – even with milk! We recommend it for the coffee machine or the classic filter coffee maker. But also fans of manual preparation (French Press, hand filter, Chemex or AeroPress) get their money's worth. We recommend using 250 ml of water for 15 g of coffee.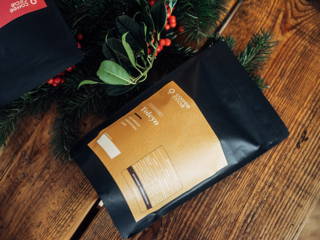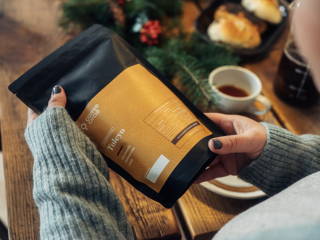 Fresh and careful roasting in Berlin
Toleyo filter coffee is heavily roasted (a so-called "city roast"). Our roasting masters have perfected the recipe of the Toleyo over several weeks. The challenge was to optimally emphasize the character of the two origins of the coffee. The roasting profile of the Toleyo brings the complex aromas of the coffee from Colombia into harmony with roasted, tobacco-like notes from Indonesia. Convince yourself of the result!
Toleyo coffee is also available by subscription
Automatic delivery to your home
Adjust or pause at any time
Can be cancelled at any time
Origin
Toleyo Blend from Brazil, Indonesia and Laos
The Toleyo combines the benefits of Brazil, Indonesia and Laos. The brazilian component comes from the Farm Fazenda Sertão in the region Minas de Gerais. This coffee tastes very nutty, sweet and clear. The cooperative currently consists of 150 members who grow the coffee organically.
The Indonesian component comes from the north of the island of Sumatra. The coffee is called Mena Gold and is prepared by the farmer Musfaha Mandiri in the special wet hulled process. The cup profile impressed us with its spicy, earthy and slightly smoky aroma.
The Laotian component comes from our long-term partner cooperative JingJhai. The cooperative is characterized by a special commitment to produce high quality coffee. For the blend of the Toleyo we use Arabica coffee from the cooperative.
Brazil: Farm Fazenda Sertão
Slope: Carmo de Minas, Minas Gerais, Brazil
Geo coordinates: 22°06'59.9″S 45°09'18.3″W
Height: 1.050 m
Number of coffee farmers in cooperative: 150
Processing: natural
Plant: Yellow Bourbon (100 % Arabica)
Indonesia: Mena Gold
Slope: Sumatra, Indonesia
Geo coordinates: 2°30'16.1″N 98°15'34.9″E
Height: 1.350 m
Number of coffee farmers in cooperative: 600
Processing: wet hulled
Plant: Tim-Tim, Bourbon (Arabica)
Laos: Cooperative Jing Jhai
Slope: Bolaven Plateau, Laos
Geo coordinates: 15°06'23.4″N, 106°11'45.2″E
Height: 1.200 m
Number of coffee farmers in cooperative: 298
Processing: honey processed
Plant: mixed Arabica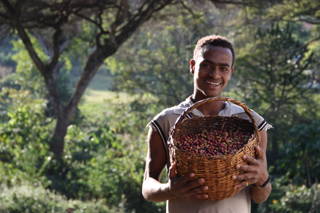 With every cup of coffee you support our social projects
Because 1 € per kg of coffee goes into projects that improve the farmers' living conditions in the long term! Here you can find out more about our current projects in Ethiopia.