Our Decaf is the first decaffeinated espresso that really excites us. Its sweet, full-bodied taste is unique.
Decaffeinated espresso from Colombia
Well-balanced flavour reminiscent of chocolate biscuits and cinnamon
100% pure Arabica beans, picked by hand
| | |
| --- | --- |
| Taste | Chocolate Cookies, Cinnamon |
| Strength | |
| Acidity | |
| Sort | 100 % Arabica, Single Origin |
| Origin | Columbia |
The only thing that knocks you out is the taste
This is our first decaffeinated espresso. For a long time we decided against decaffeinated coffee or espresso in our assortment, because we have never been convinced of its taste. Until the moment we tried the Decaf from the Unichaparral cooperative in Tolima, Colombia. The Decaf Espresso is a full-bodied, very sweet and round espresso.
"The Decaf surprises me again and again. You can't tell that it lacks caffeine and it can really compete with the best coffees",
Hannes Fendrich, Roasting master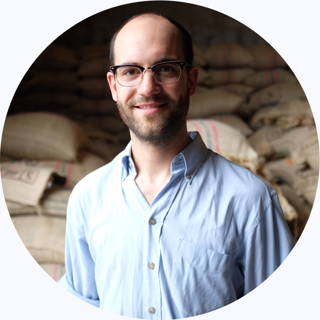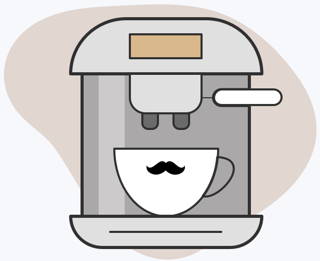 Preparation tips
The Decaf Espresso is very well suited for preparation in the espresso machine, in fully automatic machines and in the moka pot. It is best to grind the espresso freshly at home to get the optimum of aromas.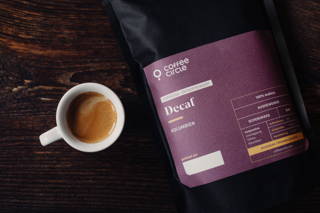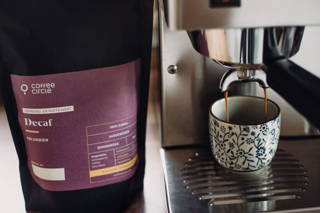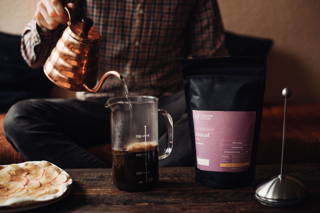 Freshly roasted in Berlin
Decaf Espresso is roasted in a gentle drum roasting process in 35 kg batches for approximately 11:00 minutes at a final temperature of 215 °C. The rather pale roast preserves the wonderful aroma of the espresso. We always roast fresh, you can read the exact day on the packaging.
Decaf Espresso also by subscription
Automatic delivery to your home
Adjust or pause at any time
Can be canclelled at any time
Origin
The Unichaparral Cooperative
Slope: Unichaparral, Tolima, Colombia
Geo coordinates: 3°39'04.6 "N, 75°34'28.0 "W
Altitude: 1.680 m
Number of coffee farmers in cooperative: 238
Processing: washed
Plant: Colombia, Castillo
Cultivation in small farming structures
The Unichaparral Cooperative is located in Tolima, Colombia. Here the coffee is grown by 238 small farmers at almost 1,700 meters. The smallholders strive to produce the best possible coffee quality and attach great importance to picking the red coffee cherries and careful processing, which then takes place with the cherries. This results in a high degree of sweetness and balance in the coffee. The complex aroma is reminiscent of notes of chocolate cookie, cinnamon and dried fruit.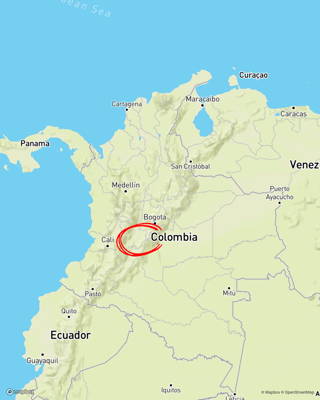 How is coffee decaffeinated?
The coffee was decaffeinated using ethyl acetate. It is a "natural" solvent obtained from cane sugar, which is used to extract over 97% of the caffeine content. The residue of ethyl acetate is less than 30 ppm and the coffee is therefore free of foreign odors and flavors. Only the beautiful sweetish, slightly fruity notes of the balanced coffee remain.
A personal business relationship with the coffee farmers at eye level is crucial for us
Our coffees come from direct trade relations. This means for us that we communicate regularly with our partner producers and visit them annually. Direct communication is essential in order to establish a mutual trusting relationship, to motivate to improve coffee quality and to really understand the local living conditions.