This coffee is grown in Kenya on volcanic soil at an altitude of approx. 1,750 metres. The optimal conditions give it a tangy and fresh taste profile.
| | |
| --- | --- |
| Taste | Currant, Rhubarb |
| Strength | |
| Acidity | |
| Sort | 100 % Arabica, Limited Edition, Single Origin |
| Origin | Kenya |
Similar coffees #Complex #Fruity
Lively coffee with notes of currant and rhubarb
The coffee comes with a lively character and an extremely complex taste. It offers intense berry notes, reminiscent of finely tart currants and fresh rhubarb. At the same time, Rungeto has a great mouth feel and a round body, so that this coffee is kept in beautiful balance from the first to the last sip.
Preparation tips
The fruity, livley character is best expressed in hand filter preparations, such as the Hario v60 or the AeroPress. We recommend using 200 ml of water per 12 g of coffee and enjoying the prepared coffee best without milk and sugar. This fruity coffee is also highly recommended as cold brew.
Freshly roasted in Berlin
Our roast masters roast our coffees fresh and gently so that the coffee tastes neither bitter nor burnt. Only the desired fine fruit acids, which contribute to the character of our coffee, are preserved.
We roast the coffee in 40 kg batches with a total roasting time of about 11:00 minutes at a final temperature of 200 °C.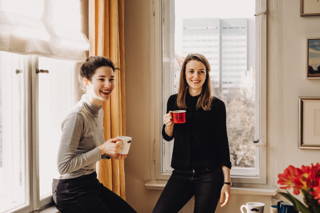 Rungeto coffee is also available by subscription
Automatic delivery to your home
Adjust or pause at any time
Can be cancelled at any time
Origin
Slope: Rungeto Kii, Kirinyaga District, Kenya
Geo coordinates: 0°27'02.8 "S, 37°27'27.1 "E
Altitude: 1.750 m
Number of coffee farmers: 650
Processing: washed
Plant: SL-28, SL-24, Ruiru 11 (Arabica)
Rungeto Co-operative Society – Kii Factory
In Kenya, coffee cooperatives consist of a relatively large number of coffee farmers, so that there are several washing stations or factories within a society or cooperative. The Rungeto cooperative has 3 factories: Kii, Kiangoi and Karimikui. The Kii Factory has 650 members. The coffee is grown here at an altitude of approximately 1,750 meters on rich volcanic soil. The Kenyan soil has a high phosphorus content.
This ensures that the coffees develop a tangy and sparkling acidity, for which experts love them. The farmers here mainly cultivate the Arabica varieties SL-28, SL-32 and Ruiri 11. After the coffee cherries are processed at the washing station, the coffee beans are fermented for 72 hours in a two-stage process. This careful fermentation process removes any pulp from the beans, giving the Kii coffee a particularly clear and delicate aroma. A special feature in Kenya is that the beans are sorted by size before export, with AA being the classification feature for the largest beans.
We have tried different lots from the Kii Factory and decided on this lot in an AA classification, as it scored best in our evaluation criteria.
The new harvest of the Rungeto has arrived. As the Peaberry Edition!
Peaberry is the name given to coffees in which one bean instead of two has grown inside the coffee cherry. This is extremely rare and occurs only in 5 – 10% of the coffee harvest. Peaberries have a more intense taste. The beans are also somewhat rounder than you are used to.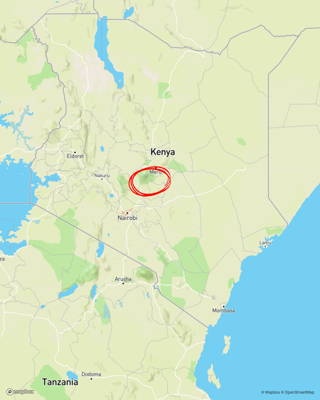 On our travels we try dozens of coffees in cuppings, with the aim of selecting the best coffees from the current harvest.
No, it never gets boring! We taste and smell ourselves through countless aromas in completely different combinations. In doing so, we not only want to discover the best coffees in the world, but also get to know the people and their lives who grow these coffees.