Rancilio Silvia Espresso Machine
The Rancilio Silvia Eco V6 is a high-quality entry-level model for all those who want to get serious about espresso.
Solid, high-quality construction with durable stainless steel housing
Offers excellent espresso quality in its class
Unsurpassed price-performance ratio
Rancilio Silvia - the latest version from the traditional manufacturer
Founded in 1928 by Roberto Rancilio, the company is known worldwide for its professional espresso machines. Since 1998, the Rancilio Silvia has also been available for home baristas. It is an espresso machine that is unmatched in its price range in terms of workmanship and espresso taste.
Since then, the timeless design of the machine has hardly changed at all, but new functions have always been added and the technology improved even further. The current version, which you can find in our store, has auto-standby, and its boiler has been even better isolated.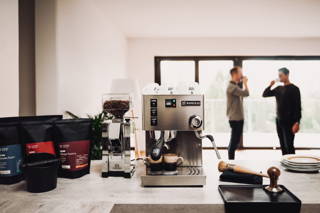 Features like a gastro-machine
The Rancilio Silvia prepares espressos in terms of quality like no other single-circuit espresso machine in its price range. The Rancilio Silvia reaches an amazingly constant temperature due to the large, well insulated 0.3 liter brass boiler. This has a direct effect on the taste of the espresso. In addition, the 58 mm sieve holder supplied is very solid, lies ergonomically in the hand and can be fitted with almost any sieve size due to its standardized size.
The Rancilio Silvia also scores points for durability and consistent performance. The housing is made of high-quality stainless steel, just like a professional gastro machine, which makes the Silvia particularly robust and elegant.
Real steam power – for milk foam like from the barista
The steam lance, in combination with the large brewing kettle, enables professional milk foaming. Therefore, after a short heating up, the Silvia produces particularly dry and intensive steam. Like no other espresso machine in this price segment, you can produce very fine pored and creamy milk foam and inspire your friends with latte art.
How to froth milk for Latte-Art, we show you here
.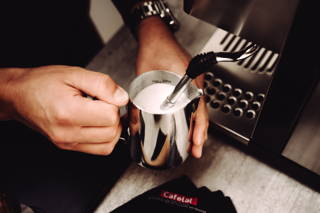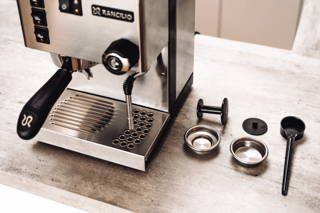 For beginners who value quality
The Rancilio Silvia is the ideal introduction to the world of good espresso for private use. Its ease of use combined with the high-quality materials make it an all-rounder for espresso fans as well as for home baristas with latte-art ambitions.
It's finish also allows the installation of modifications such as a PID (Proportional-Integral-Derivative Controller), which allows an even more stable machine temperature.
Since the Rancilio Silvia is a single-circuit espresso machine, you cannot foam milk and get espresso at the same time. For this purpose, we recommend the Bezzera BZ10, which, thanks to its dual-circuit system, can handle the parallel use of the two functions. The Silvia is also not designed for intensive use (more than 10 brews per day). We recommend the Profitec Pro300, which is also ideal for office use.
Tips & tricks for Rancilio Silvia
The Silvia should always be dried thoroughly after covering and backwashing. Important here is also the drip tray and its housing to avoid rust damage. These are not included in the warranty.
Better milk foam: Before the milk jug is placed under the nozzle, first release hot and condensed steam into the drip tray or a cloth until the steam is nice and dry. Then you can start foaming.
Technical details at a glance
Machine type: Single boiler shrink-wrap system
Boiler: 0.3 liters
Water tank: 2.5 liters
Brewing group: Ø 58 mm
Brewing pressure: approx. 9.5 – 11 bar
Heating time: 5-10 minutes, about 20 minutes until the brewing group is completely heated through
Boiler material: brass
Body material: stainless steel
Dimensions (W | H | D): 29 | 34 | 23,5 cm
Power: 1.100 W
Weight: 14 kg
Scope of delivery
1 screen carrier double outlet
2 (1 single and 1 double cup) strainer inserts
Blind Screen
Tamper
Measuring spoon
Instruction manual
Our set recommendation
Rancilio Silvia & Espresso grinder of your choice
Our alternative to Silvia
Heats up even faster
Our upgrade recommendation
Double circuit screen carrier machine
Your espresso tastes different than expected?

We have summarized the most common sources of error.
How to set the ideal grinding degree
Our espresso recommendations